Some of the best experiences on my travels to various parts of the world
have occurred when I was able to attend local a local church service.
Always something interesting to experience and learn and we will often
find new friends and intriguing people whose stories add rich color to
the travel experience.
On Sunday, October 20, I was in Amsterdam at the beginning of an intense trip involving an intellectual property event there and a business trip to Cambridge in the UK. One of the best short trips of my life with so many highlights, but I think the best part of that wonderful visit to Europe was the chance to visit the Amsterdam Ward on Sunday. What a delightful, loving group of people from all over the world.
The Amsterdam Ward building is on a quiet, narrow street, a facility that the Saints in Amsterdam built and funded themselves at great sacrifice with financial donations and donated labor. It was truly a work of love from deeply faithful people. The couple below, the Jansens, and their son gave me permission to share the photo. They were part of the group that built the building and were so happy to have it be finished and dedicated in 1971. Another son of theirs, Johan Jansen, is the head chef for the dining establishments at the Joseph Smith Building in Salt Lake City, where I have sampled the good and affordable food at the Nauvoo Cafe, maybe the most casual and inexpensive place there. Love their chicken pot pie and salads. Johan is also known for his "Cooking with Johan" videos on Youtube.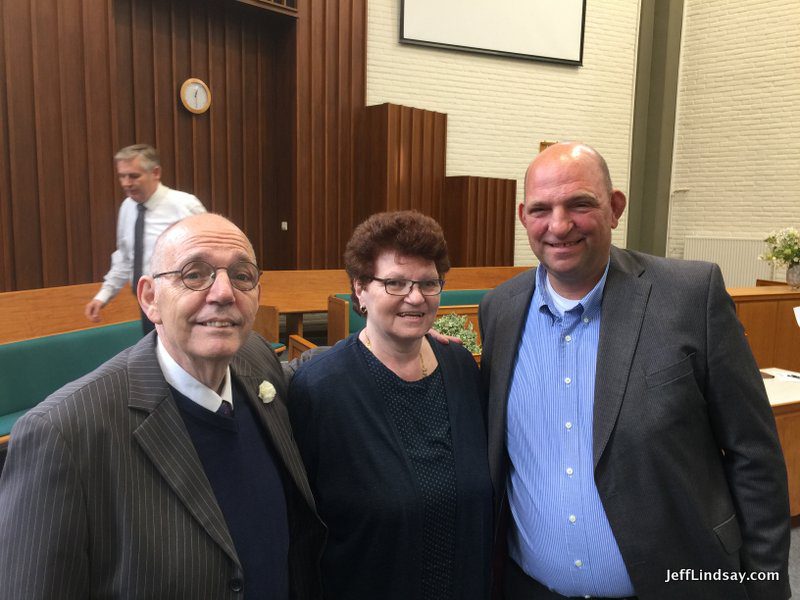 Here are some views of the building and the neighborhod.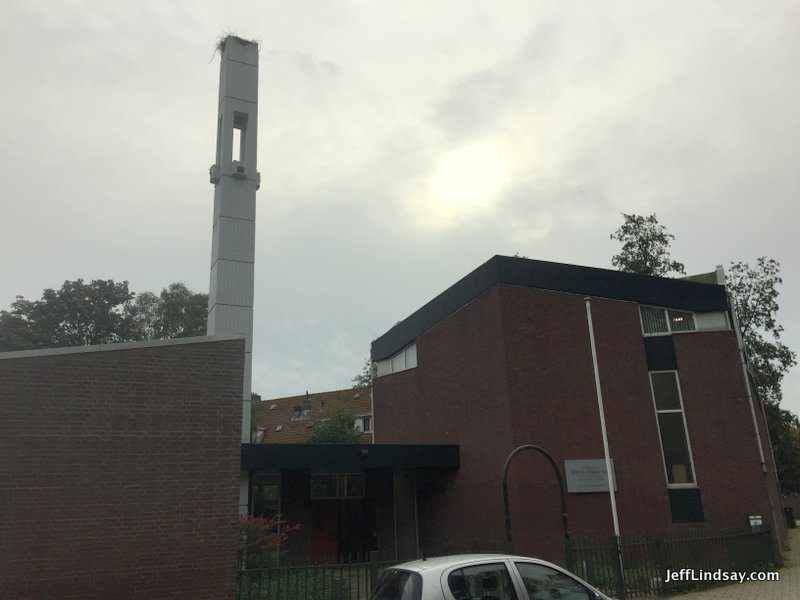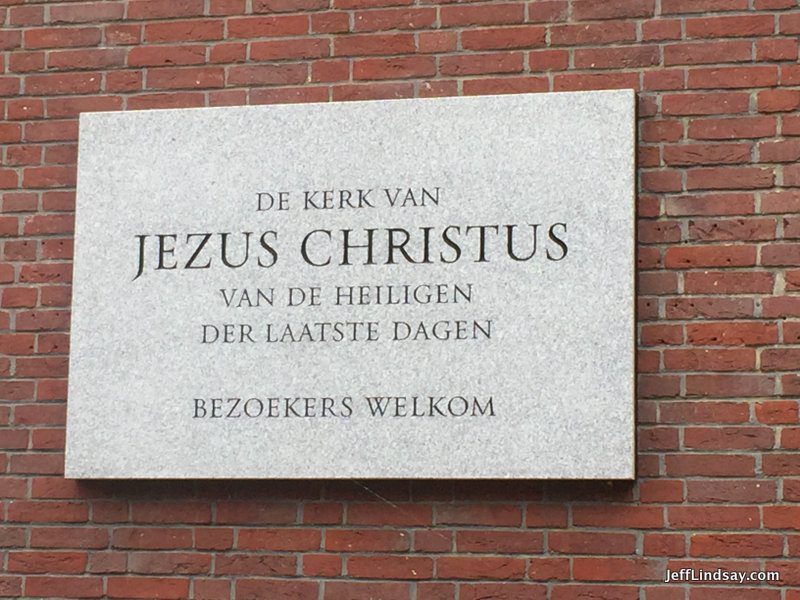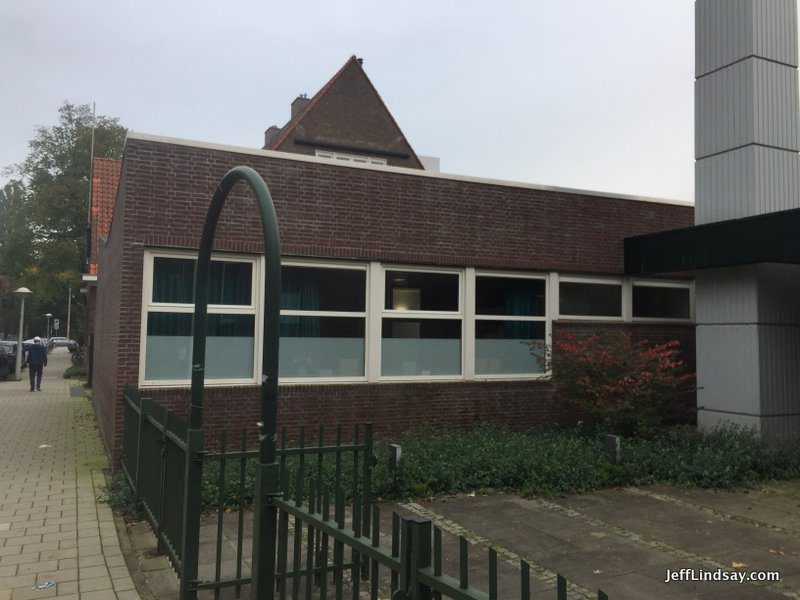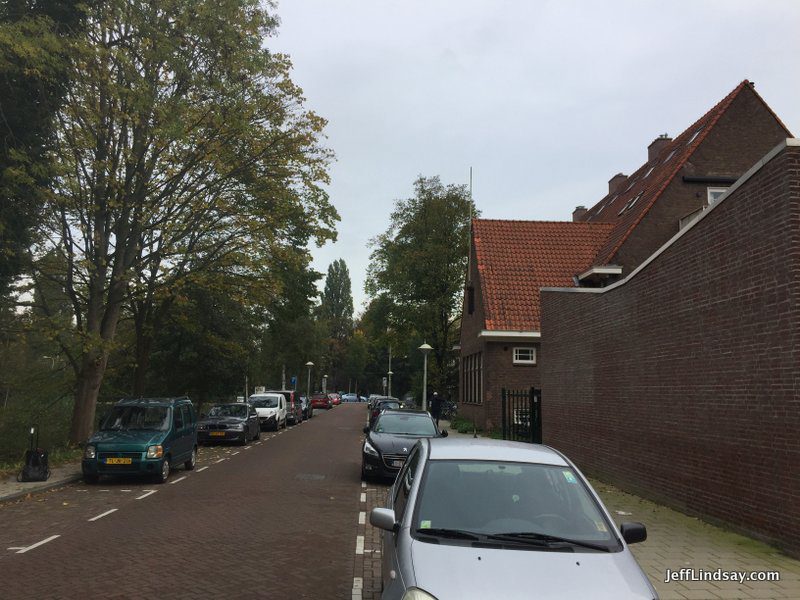 The main speaker in the sacrament meeting at the Amsterdam Ward impressed me with what seemed like a solid, scripturally-rooted talk with strong delivery that made it interesting, even with the inherent limitations of on-the-fly translation. But an extremely delightful highlight was the musical number, a soloist with piano accompaniment of "Oh the Song We'll Sing." As performed, it may have been the most beautiful hymn I've heard, but it's one I've somewhat neglected all my life. So beautiful. The soloist was so good I suspected she was a professional singer. When I chatted with her and some of her fans afterwards, I learned that this was Sister Angela Bower, a professional opera singer from the States who was here in the Netherlands performing in the Mozart opera, Cosi Fan Tutti, and just had a couple performances left before completing that significant project and returning the U.S. She was remarkably gracious and it was so kind of her to share her skills and devotion for the Lord in that performance that the Ward requested from her. Unforgettably beautiful. Bravo! And unlike many celebrities who do attend sacrament meeting, I was impressed that she stayed for Sunday School and actively participated. Cool!
I also met some wonderful missionaries who impressed me. Took a photo of one, Elder David Gerrits, shared with permission. He has been in the Netherlands serving in Amsterdam for many weeks while waiting for his visa to Dutch-speaking Surinam to be granted, and now is finally on his way to the MTC briefly and then on to Surinam. Had a great conversation with him and found he was highly interested in many Book of Mormon issues and evidences, which we discussed for a while before sacrament meeting began. Sharp Elder and very interesting.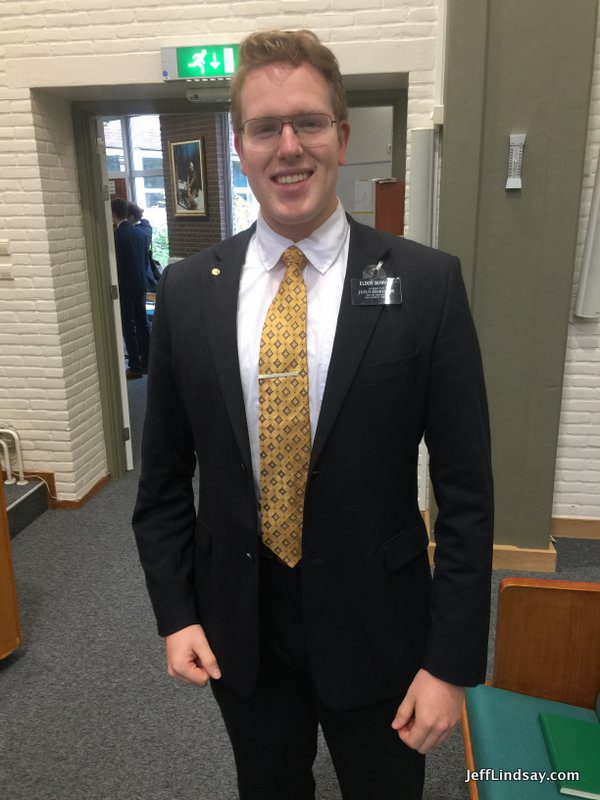 There is a nest built by storks on the top of the building, which has been taken as an auspicious sign by some of the members, one of whom spoke to me about "the miracle of the storks." Amazing birds. Saw the nest but didn't get to see any storks on my visit.
This was my third trip to Amsterdam. Love the people there and the food, especially the cheese, bread, and butter. I was honestly stunned by how good the butter is — such a simple material, one might think, but to me the local butter there is the best I've ever tasted. Simple bread and butter can be a feast there. And one that's easy on the wallet.
One of the benefits of visiting a local church unit is that you can usually get a free copy of the Book of Mormon in the local language and often in English (which everyone seems to speak in Holland) that you might be able to give out later. I picked up an English copy with the help of the Elders and was able to give it out to a very interesting man I met two days later. He turned out to be a minister and a man with a rich faith in Christ. It was a pleasure to hear his story and learn from his experiences as we discussed some things of common interest. Was grateful I had a copy of the Book of Mormon to share with that fine man.
Holland is a place really worth visiting, and I hope you'll be sure to include a visit to the Amsterdam Ward. It was a highlight, maybe the top highlight, of this trip.