In a previous post (currently on hold while I consult with the source on what details I should share), I referred to the many small miracles that have blessed people I know and love. In one recent example, a mother I know was staying at a friend's home when she heard a voice say "Run!" That helped her recognize her bold little toddler was not at her side but in danger, and she ran to find a stairway door had been opened by someone else and her wobbly little son, a boy with no respect for gravity, was standing at the top, toes over the edge, ready to plunge forward toward bare wooden stairs leading to a concrete basement floor. She snatched him in time, courtesy of a small little miracle. I mentioned that we don't know when and why these small miracles come, and recognized that life is often filled with pain and sorrow even for the best parents, but when the little miracles come, we should rejoice for those who receive them. When I wrote that, I expected to get the response that I have often received when referring to a miracle that someone experiences. Skeptics will point to some of the tragedies that occur and insinuate that that miracles can't be real, otherwise why would God help someone with something minor when such great sorrows and pains exist in the world? But the response was more painful or bitter than I expected. I should have anticipated some of the pain that might have been stirred up:
..and yet my son died. Am I to assume that I didn't listen to the Spirit in some way to save him? Or that Heavenly Father just didn't care enough to send any guidance?

Good to know Heavenly Father was more concerned about the possible broken arm [that child] than about my son getting the organ transplant that would have saved his life. . . .

Stories like these are equivalent to a slap in the face for all of us who have [unhappy] endings to our fairytales. It's great that [one child] wasn't hurt…but surely you can see that what the flipside of it implies???
Ouch. I'm so sorry about this. The loss of a child is one of the great tragedies of mortality. There are no easy answers, except for the far-off answer that comes through Christ and the hope of resurrection and reunion. Another great tragedy is the spiritual loss that comes when a child ultimately rejects God and the blessings of the Gospel. Again, only patience and love can be offered with hope that there might be a return one day.
Do these tragedies, though, negate the reality of small or even large miracles? Can God help someone by answering a prayer, healing an illness, or helping a car to start, when many are about to die from accidents, disease, or even terrorism in Texas? Is God unjust or unfair because He sometimes reaches down and lets the current course of mortality be stayed in an obvious way for some purpose we cannot understand but can only gratefully accept?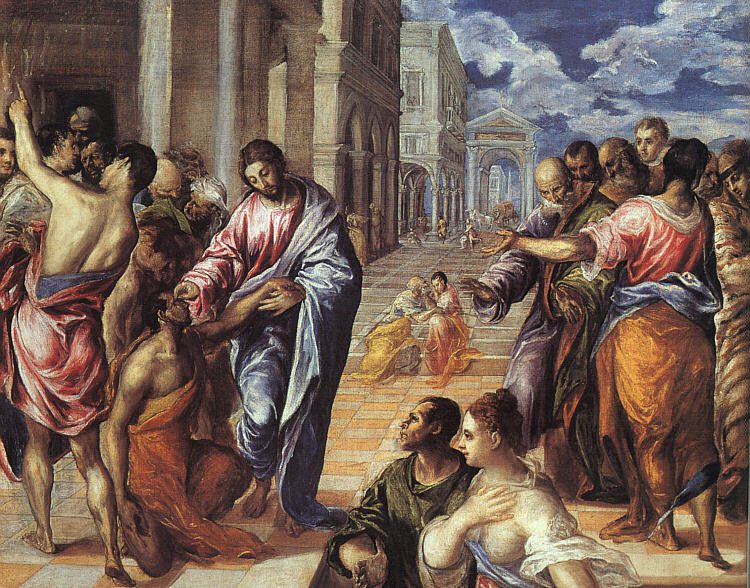 Thousands across the earth were blind or going blind 2,000 years ago when Christ touched the eyes of one blind man to give him sight. Did God love the others less than the one rare man who was healed? Thousands, maybe millions, across the earth were hungry or thirsty as He attended a wedding feast in Cana and turned water into wine. Does God love the hungry and destitute less because they were not given miraculous drink? If not even a sparrow can fall to the ground without God's awareness (Matt. 10:29), we must understand that we, His children, are known, noticed, and loved, regardless of what trials we must endure. Shall we be skeptical of God's love or His miracles because their more outward manifestations are not commonly and uniformly distributed according to our sensibilites?
Mortality will leave all of us bitter and scarred if we cannot accept the diversity of gifts, blessings, trials, lifespans, ancestries, and genes that God lets us have.
Miracles, large or small, stand out. They punctuate the normal course of the painful mundane world to occasionally, even rarely, teach us or remind us of God's reality or serve some other purpose. We cannot expect them in all cases, every day, for all of us. We have no basis to demand them by right. Remember, His love is no less, His presence no more remote, for the child that dies than for the one that is spared, for His work is not about keeping us wrapped up in our mortal shells and the little things of earth life, but in our ultimate destiny in His endless presence. His timetable and plans for each of us take us through wildly different routes in our journeys. Some routes are tragic and seem senselessly painful, especially when the cruelty of man is involved, men who have abused the cruel gift of free agency to hurt others, for a terrible consequence of the merciful freedom He gives us to choose Him is also the freedom to reject Him and crucify His son anew by abusing His other children also created in His image. But we are also promised that the Atonement of Christ is sufficient and in the end, as we come into His presence, all tears can be wiped away.
And he will destroy in this mountain the face of the covering cast over all people, and the vail that is spread over all nations.

He will swallow up death in victory; and the Lord GOD will wipe away tears from off all faces; and the rebuke of his people shall he take away from off all the earth: for the LORD hath spoken it.

And it shall be said in that day, Lo, this is our God; we have waited for him, and he will save us: this is the LORD; we have waited for him, we will be glad and rejoice in his salvation. (Isaiah 25: 7-9)
I rejoiced that one mother was miraculously aided: a voice spoke to her, "Run!"–how obvious can you get? But as I wrote of that miracle, I recognized that other outcomes are possible. Equally deserving and loving parents with equally wonderful children have suffered tragedy under similar circumstances. Indeed, I left out one detail in the story I related. It was especially poignant for me because my wife and I faced a similar danger years ago at the home of some wonderful devout Christians. During a Christmas party there that we attended while striving to be good friends and missionaries, a door to their basement was left open and our little fearless toddler son waddled over to the top of the stairs. He was about the same age as the toddler that was the subject of my last post. My wife spotted him just in the nick of time – well, almost. As she rushed toward him and reached out to snatch him, she missed by inches, a fraction of a second, and watched in horror as he stepped forward and fell head-first down the hard wooden stairs and crashed against the concrete floor at the bottom. We were horrified. We felt like the worst parents ever. We wondered how this could happen, especially when we were there trying to do good and help others, and then this. We were so worried, afraid he might have broken bones, a damaged brain, or even face death. He survived and was soon well, and perhaps that was miracle enough. But we heard no voice to get us there in time, saw no miraculous delay in our son's trajectory, no hidden angel's hand to hold him back. He was hurt, but our pain may have been even greater.
The fact that one child was spared a similar fate was not meant as condemnation to those of us who have faced and suffered the normal course of gravity and dare-devil toddlers. It was a miracle, an unusual departure from the normal course. How else can you account for the vocal command to run, a command which appears to have been perfectly timed for maximum drama and gratitude. To me, it does not mean that one child is more precious than another, or one parent necessarily better or more righteous than another, or that God is unjust in allowing danger to be ever present without omnipresent angels imposing a record of perfect safety. What happened to one mother was rare, unusual, and a cause for rejoicing, not guilt trips, pain, and bitterness. It does not mean that one person or family was more righteous or more loved than another. We do not understand why, but can only be grateful. We could speculate, of course, and even wonder if part of its purpose was to help some of us consider the implications of small miracles in the face of large tragedies, especially when I had a contrasting event under such similar circumstances.
Referring to some Galilaeans who had been slaughtered by Pilate while seeking to worship God, Jesus said, "Suppose ye that these Galilaeans were sinners above all the Galilaeans, because they suffered such things? I tell you, Nay: but, except ye repent, ye shall all likewise perish" (Luke 13: 1-3). And regarding 18 people who died in his area when a tower in Siloam fell, he said, "Think ye that they were sinners above all men that dwelt in Jerusalem? I tell you, Nay: but, except ye repent, ye shall all likewise perish" (Luke 13: 4-5). Towers fall, children fall, and people die, regardless of who is righteous and who is not. It is not death but rebellion against God that is the real tragedy.
If we only understood more and saw more clearly, we might recognize the hand of God in numerous things around us and rejoice more fully in the miracles of life, of love, of beauty, and of families. We might recognize small or even great miracles even in the painful trials he allows us to experience, some of which may have been tailored for us in His grace. We may be blind to most of the miracles that make our lives, but that should not makes us doubt or even be bitter when His kindness is more obvious to some.
Praise God for each child spared and for each parent given miraculous guidance. Weep for the larger number who are not spared. Do our best to keep doors to danger closed and children close enough to us that we will not need an angel's voice to best fulfill our duties. And may we never judge or condemn those who are not the recipients of yearned-for miracles, or begrudge those who are.
Meanwhile, we must not lose our bearings and sail away from God because we journey in a world where oceans of trouble and islands of miracles coexist on a map wildly unlike what we would draw if we were the cartographer.