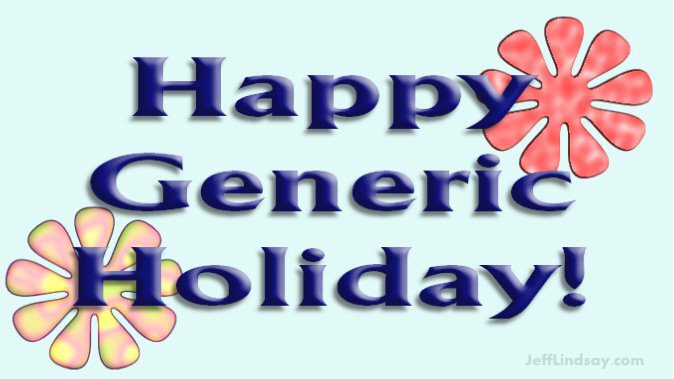 Tonight I dropped into CVS Pharmacy to get a family photo made into some Christmas cards. I plugged my USB jump drive into their machine and looked at the choices available for printing cards. There was an option for "Winter Holiday Cards" – OK, that might have Christmas cards. I went there and found nearly a dozen choices of formats to which I could add my photo. There were two cards available with Jewish symbols – the menorah on one and the Star of David on the other (not the Bethlehem star, though – just a repeating background of the Jewish symbol). Cool. There were cards with Santa Claus, presents, and a reindeer. But nothing that was distinctively or uniquely Christian. No wise men, no shepherds, no manger scene, so star of Bethlehem, no angels, no cross, etc. Not even the non-denominational word "Peace." Perhaps that phrase is too loaded with Christian overtones if present on a "winter holiday" card.
Does CVS suffer from the delusion that offering a Christian-themed Christmas card would somehow be offensive to their customers looking for "winter holiday" cards, while Jewish symbols are OK?
I punted, gently expressed my dismay to the staff, and went online to find some real Christmas cards – plus a few "Happy Bailout" cards for my non-believing but still very gullible friends.