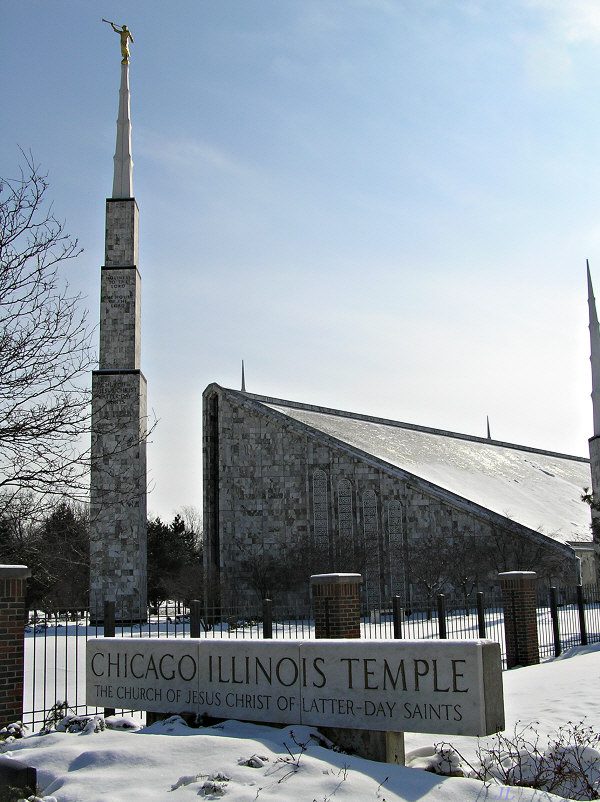 The Chicago Temple, photographed Feb. 17, 2007 by J.L. (Click to enlarge.)
A wonderful trip to Chicago today is largely due to an interesting and detailed dream I had last night about preparing to take my son to the Chicago Temple to participate in a youth temple trip to do baptisms. Whether the dream was just a fluke or not, I'm so glad I went! It was a wonderful day – plus, in a surprise development, the ward would not have had enough men present if I hadn't been there.
I wasn't planning to participate in this event. We had originally planned to take our family to Chicago to see my sister's family and also get my two youngest boys to the Temple for the ward event, but one son was sick on Friday and our trip was called off. The obvious plan, then, was to simply have my other son, Mark, go with the ward while I stayed in Appleton to get caught up on a load of work and help my wife watch over the other son and spend some time with both of them. Frankly, getting some work done sounded like a great idea after a frustrating and rather unproductive Friday. Since the ward had enough adults already lined up, nobody had even thought of asking me to help out. I was in the clear!
Before going to sleep on Friday, I pondered whether I should be ready to go to the Temple in case some other adults didn't make it, but I didn't think that would be the case. But that night I dreamt so clearly about getting prepared to go to Chicago, that I had no doubt that going was the right thing. I thought perhaps it was because I needed to do an Endowment session while my son participated in baptisms, but in fact the ward ended up being short one person, and I was able to fill that spot. They thought they had more than enough since another ward was going to be providing some adults, but that mystery ward didn't show up. Turns out I really was needed.
I woke up naturally well before the 5:45 time set on the alarm clock, shortly after dreaming of going to the Temple, giving me extra time to not just be able to drive my son to Church by 6:00 a.m., but to also be ready to go to the Temple myself (it's about a 3-hour drive to the Chicago Temple from Appleton). In the dream, I was also working to get my camera and batteries ready for some photography in Chicago, which also worked out very well. (Details may end up on my Web site later.) Perhaps just as important or more important than being in Chicago to help my ward was the time my son and I were able to spend with my sister's family. Since there were more than enough vehicles driving kids down to Chicago, we were not contrained by the need to give rides to anyone else, so we could stay in Chicago and visit my sister's family. This provide to be an important visit, in my opinion, one that I really treasure.
It took most of the day at a time when my son and I both had plenty to do, but we came back realizing that it was time well spent, that we had been in the right places, and that the day was a genuine success. Much better than the futile attempts at success I would have made if I had stayed home. And as one more exciting bonus, a technical conversation with my son about some aspects of computer and cell-phone technology led to an exciting idea that I think might have some real business potential. The prior art search will begin shortly, and then we'll see where that goes – but the idea alone strikes me as more valuable than anything I would have achieved grinding away at less relevant millstones had I stayed home.
As always, the Temple is a happening place, and the blessings of Temple attendance far outweigh the scarifices involved in getting there.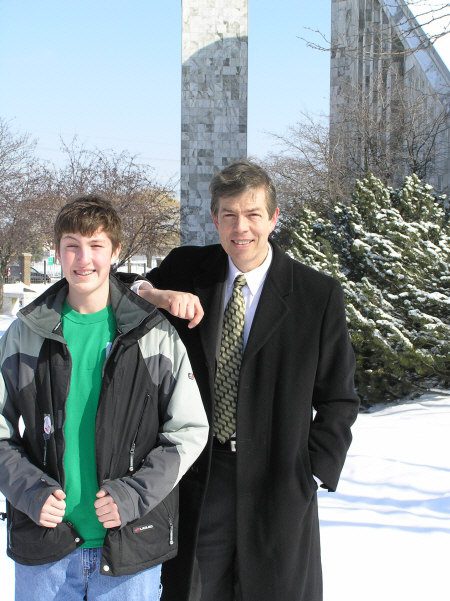 My son, Mark, and I at the Chicago Temple. This was after my son changed into casual clothes, on our way to visit relatives. The photograph was taken by some cool people we met outside, a student from the Wharton School of Business and a member from Ecuador doing business in Chicago.