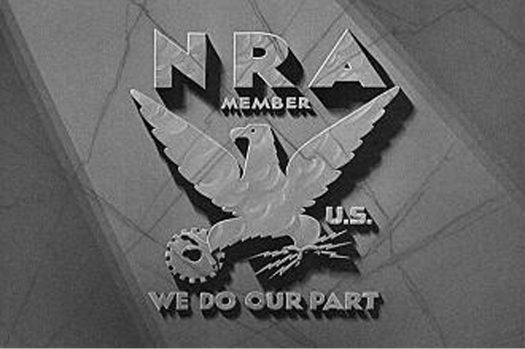 Were any of you around in Franklin Roosevelt's day? I am amazed at how he is praised in our modern textbooks, with little critical discussion of what he did to Japanese Americans or to the Constitution of this land. While the precedent he set of massive executive power grabs continues unabated in our day, there are some lessons from his reign that should be remembered by those who seem eager to trust a President with power far beyond the intent of our Founding Fathers. One little glimpse into what can happen comes from the activities of the National Recovery Administration (NRA). Here is an excerpt from the Wikipedia article on the NRA which discusses its "codes of fair competition" aimed at reducing "destructive competition" and helping workers by setting minimum wages and maximum weekly hours:
About 23,000,000 people worked under the NRA fair code. However, violations of codes became common and attempts were made to use the courts to enforce the NRA. The NRA included a multitude of regulations imposing the pricing and production standards for all sorts of goods and services. Individuals were arrested for not complying with these codes. For example, a man named Jack Magid was jailed for violating the "Tailor's Code" by pressing a suit for 35 rather than NRA required 40 cents. John T. Flynn, in The Roosevelt Myth (1944) reported:

The NRA was discovering it could not enforce its rules. Black markets grew up. Only the most violent police methods could procure enforcement. In Sidney Hillman's garment industry the code authority employed enforcement police. They roamed through the garment district like storm troopers. They could enter a man's factory, send him out, line up his employees, subject them to minute interrogation, take over his books on the instant. Night work was forbidden. Flying squadrons of these private coat-and-suit police went through the district at night, battering down doors with axes looking for men who were committing the crime of sewing together a pair of pants at night. But without these harsh methods many code authorities said there could be no compliance because the public was not back of it.

In 1935, in the court case of Schecter Poultry Corp. v. US, the Supreme Court declared the NRA as unconstitutional because it gave the President too much power. The NRA quickly stopped operations, but many of the labor provisions reappeared in the Wagner Act of 1935.
Businesses and individuals face similar threats today. I know someone who once ran a controversial health care clinic that had painstakingly sought FDA approval for their treatments. Everything was cleared by the branch of the FDA they had been working with, or so it seemed, but one day another branch of the FDA showed up to do an "investigation." They seized records and computers needed for the business, essentially shutting down the clinic, without filing any charges. One year later, the impoverished owner of the clinic, who had lost everything she had due to the FDA's actions, received a phone call from the FDA. "We've completed the investigation. Didn't find any problems. No charges will be filed. You have 24 hours to pick up your stuff or we'll discard it. Sorry for any inconvenience."
That's her story. I've looked at both sides and recognize that there are legitimate questions about the value of the service that was provided, though many of the patients claimed they were being helped. Whether the clinic was effective or not, the actions of the FDA just "didn't feel like this was America," as she put it. The sometimes capricious and harsh treatment of people and companies by our massive regulatory agencies in this country, not to mention the spying on citizens by Homeland Security and other organs of a burgeoning police state, represent a genuine loss in personal liberty.
Paraphrasing something I heard from The Onion, "the loss of personal liberty is a small price to pay for freedom." At least that's what we're supposed to think.
The growing loss of liberty and individual responsibility will ultimately mean decreased tolerance for religion and religious values. Whether maintaining religious values results in being diagnosed with a mental illness, criminally charged with a hate crime, or other forms of punitive government intervention, I feel there is a risk in the future of increasing barriers to free religious practice. Religion truly is the enemy in Marxism, and as we move along Marx's socialist trajectory (can you identify which of the 10 platforms of the Communist Manifesto have not yet been implemented in the US?), we will see more lions and fewer Christians.
Don't let go of personal freedom and individual responsibility. A nanny state is one step away from a police state. Keep America free and sovereign.
Related reading: "When the Supreme Court Stopped Economic Fascism in America," Foundation for Economic Education, 2005.