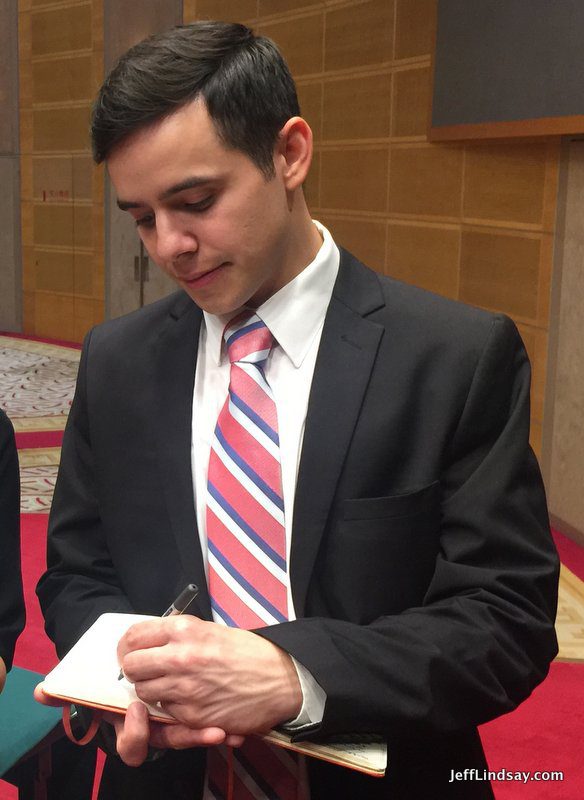 Long after the devotional was over, David was

still talking with fans and giving autographs.
David Archuleta made a brief visit to Shanghai last weekend and as a result, China is a better place, especially for the many foreign-passport holders who came to the devotional he kindly gave on Sunday afternoon. It was difficult for some in the audience, though, because applause and screaming were not allowed.
I saw some audience members, my wife included, barely able to hold back the applause because David is so wonderfully talented. It's not just a beautiful voice, it's the beautiful message that he delivers with the Spirit. He actually spoke more than he sang because he has so many stories and inspiring thoughts he wanted to share, and I enjoyed his spoken words just as much as the music. (Kudos also to two very talented pianists from the Jinqiao Branch, Jenna Gray and Cheryl Parkinson.)
His message was not just for the English speakers. David also sang "I Am a Child of God"
in Mandarin with just a few minutes of coaching from one of our members
before the devotional. It sounded great. How he managed the
pronunciation of Pinyin (the transliteration system for expressing
Chinese in the Roman alphabet) with so little preparation is beyond me.
Really, this young man is so impressive and yet so humble. He came to bear testimony of Christ and touched every soul, from what I could see.
This is a man who had the courage to walk away from millions of adoring fans to "fall off the edge of the earth," as some said, to serve a mission in Chile. So many of his peers in the musical industry who became famous while young seem to have fallen into tragic spirals of decadence, debauchery, and selfishness. David is so different. The family he stayed with here and who worked with him most closely for part of his visit to Asia told me that he is just as sweet and good in his daily life as he seems on stage. He is above all a servant of God seeking to help others, and his beautiful, inspiring devotional won me over as a fan. (Yeah, even bought a bunch of his music.) I look forward to more miracles from this great Latter-day Saint.
Two of the stories he shared involved bus rides. One was his story from Chile, one his grandmother's from Honduras. In Chile, David was on a bus ride when he felt a strong impression to turn and look at a person behind him. He did, and saw a young woman with a lot of piercings. Her?? Then he felt a powerful prompting to go over and talk. Shy, quiet David felt like this was an unreasonable request and spent a lot of time resisting, but recognizing that it was the Spirit, he finally walked over to her right before the bus reached his destination. His companion starting calling to him to get off and David was about to give up, when the Spirit urged him to act and give her an invitation to an upcoming Young Single Adult event. Awkwardly, he pulled out a printed invitation to the YSA event and said something like, "Uh, there's an event my church is having. You are welcome to come." And then he had to run.
Later other missionaries asked if he remembered a girl he had met on the bus, describing her and giving her name. They told David that she had come to the YSA event and was now taking the discussions. Then later he learned she was getting baptized. And then her sister got baptized. And then her whole family. She also went on a mission. For many lives, the world was changed for the better. "I didn't say anything intelligent to [that girl]. All I did was give her an invitation." David cited this as an example of how the Lord does the real work and can achieve great things through small and simple things.
The other bus story took place in Honduras as his grandmother noticed two strange Americans in white shirts on a bus. She was curious about who they were. Were they knife salesmen, perhaps? She would later learn that one of them felt a strong prompting that they needed to find this woman and teach her, so he remembered the village where she got off the bus and planned to return. A couple of weeks later, his grandmother became agitated when she saw those same two missionaries coming down the street. She was outside, and they recognized her and walked toward her. She was worried that they would want to talk and sell her something, and she did not want to invite them in because she was so poor and the little hut she lived in was not a good place to receive visitors. They overcame her resistance and said they didn't care about the setting and just wanted to share a message.
When one of them opened up his briefcase, revealing a picture of Jesus instead of knives or other wares, she was relieved and was able to listen. She loved the message and accepted the invitation to come to church. The morning she was to go to church, she awoke with a sense of tremendous peace, and then had a vision. She heard music, the singing of a choir, and as she looked up, there were angels singing a beautiful song. Later that morning, when she arrived at the church, she broke out in tears when she heard the opening song, "Come Come Ye Saints," the song she recognized from having heard it earlier that morning in her vision. She knew she had come to the right place. Thank God for our missionaries who respond to the promptings of the Spirit and invite people to come unto Christ (or, in many cases, to more fully come unto Christ). And thank you David, for giving your time and energy to come a place where the need for your message is tremendous. So many of us were lifted by your love, your music, and your witness for Christ and the power of the Atonement.