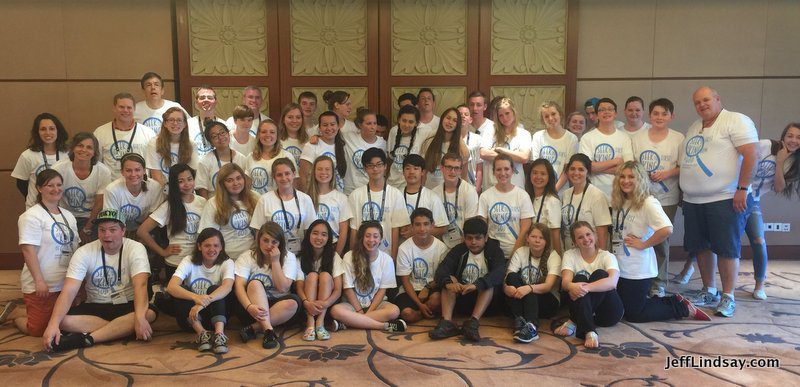 Our recent May 2015 Youth Conference in the Shanghai International
District of the Church was a good demonstration of many roles that Young
Single Adults can play. They were integral to the success of our event.
The
leaders planning our Youth Conference realized that we could use more
adults to help run a two-day event with a big group of young people, so
they asked if we could get some of our YSAs to come help. Great idea!
The LDS Young Single Adults in China tend to be a hardy, energetic group
with great attitudes, a desire to serve, and a love of others. That
shows in the way they stay cheerful and faithful in the midst of heavy
burdens at times and many surprises.
Many come here to teach
English for very little pay for a semester or two, taking on heavy
classroom burdens and sometimes chaotic situations and difficult living
conditions. Most of our teachers are in the Nanjing Branch or the Suzhou
Branch. Others are here with study abroad programs (e.g., the BYU
Flagship program in Nanjing) or internships with corporations. A few are
here for the long haul in interesting jobs, including long-term
teaching positions.
We went to the District President to get
approval to bring YSAs in to help with Youth Conference. We (the
District) would pay for their transportation and also provide housing
for them. Then I went to the Nanjing and Suzhou Branch Presidents to
request their help in identifying some YSAs who would be good additions
to our Youth Conference program. I was thinking we would be lucky to get
two or three helpers, but we ended up with 10, and what a difference
they made. Eight women and two men who taught classes, helped run
events, participated vigorously in activities, shared testimonies and
spiritual thoughts, and served as loving, interesting, fun role models. I
was so proud of those young people and also of the youth who came.
The
YSAs weren't just random volunteers the branch presidents found. They
carefully considered who would be able to serve well. I have to say
everyone of them was a terrific addition. Of course, the active LDS YSAs
in China are such a great group that maybe a random selection would
have been just as good, but we sure had a strong mix of talents,
testimonies, and teachers who made a huge difference and really helped
the younger people they came to serve.
Of course, I think much of
the success of our Youth Conference was really due to diligent,
well-prepared leaders coupled with great young people.
The
two-day conference was held on a Friday and Saturday on a weekend where
Friday was a national holiday. The event was held at Sun Island, a
resort area in the middle of the Huangpu River about an hour or so west
of Shanghai (that's an hour based on actual vehicular motion, which
often doesn't occur on Shanghai roads). We rented some villas providing
enough rooms for everyone, including the YSAs. We asked them to come
into Shanghai on Thursday night and stay with local members (4 stayed
with us), then they would stay at Sun Island on Friday night and again
with members after the event on Saturday night, giving them a chance to
attend church in Shanghai if they wished, and most did.
For many
YSAs, coming to Shanghai is a real treat, and having transportation,
meals, and lodging provided made it a good deal, even though they would
spend most of the time here busily serving others. But it was fun
service. My wife and I had one of our most enjoyable weekends, choosing
to be part of Youth Conference instead of flying to some exotic part of
China as we might have otherwise done.
The conference included
outdoor activities like games and yoga, indoor workshops at the resort
hotel, including an "Ask the Leader" session where answers to tough
questions were discussed, a dance on Friday night held in a disco area
at the hotel, a service project (letter writing to missionaries) and a
testimony meeting. Plus good food.
One of the parents sent a note
to the leaders who were over the event, shared here with her kind permission (with asterisks replacing some names):
My kids LOVED youth conference! They came home so excited. They enjoyed the workshops and games. They said that the dance Friday night was one of the best youth dances ever (compared it to EFY). They loved having the YSAs as leaders. **** was sad that she had to leave early.
The youth in our branch only had positive things to say. [My husband] and I drove four of the YM home from the church last night and they all just loved it! I heard great things about Brother Linday's magic tricks [anonymizer malfunction!]. And they really enjoyed the testimony meeting. It seemed like the youth in our branch grew closer together during this conference too. One of the YM said it felt like they were together a lot longer than 2 days — in a good way! You packed a lot in!
Today in church several of our youth shared their testimonies about their youth conference experience. **** talked about the theme. And **** talked about something she learned from her YSA leader.
Honestly, well done!!!!
I bet you are exhausted, you deserve a rest this week.
Thanks so much!!!!
After reading
the note and pondering how well the conference worked, I asked the
District YM and YW Presidents what they felt made it go so well. Here is
how our superb District YW President summed up the things that made this event so effective:
Excellent, involved, easy-to-please youth [Jeff's note:
they aren't all perfect, but we really have an unusually sweet mix of
good young people here–that can make any youth event a lot easier]
Maturity and energy of the YSA leaders – thanks to careful selection by the branch presidents
Delegation of certain tasks (i.e., snacks team, water team, tent/trash team)…
Hotel/bus arrangements were all perfectly managed
YSA-led classes were inspiring according to a few youth I talked to…
The Ask Your Leader session that I attended was fun and enlightening. They are such bright kids!
The
YM/YW leaders did a great job in organizing. Things were planned with
great attention to detail. Packets of information and custom T-shirts
designed by one of our young women were provided to every individual.
Arrangements for food, transportation, facilities, etc. have been
carefully made.
The only real gap might have been failure to
anticipate a Shanghai rarity: the potential for sunburn. Usually there
is enough haze from pollution or "natural fog" (especially when natural
coal burning plants are at full capacity) that sunburn isn't a threat,
but we had blue skies and strong sun on our first day. I ran off and
bought two tubes of sunblock and ran around like the paranoid
overprotective parent I am, trying to administer to everyone, and we
still had a couple cases of painful sunburn. Rats! But it could have
been worse.
Our situation in China may be quite different than
yours, but perhaps there are some things you can learn from our Youth
Conference experience and the value of tapping the energy and
testimonies of great YSAs. I guess that's what happens in EFY events in
the States, but I've actually never been to one of those.
Thanks to our District Leaders, the YSAs, our young men and women and their parents for enriching our lives with this event. Here are some photos: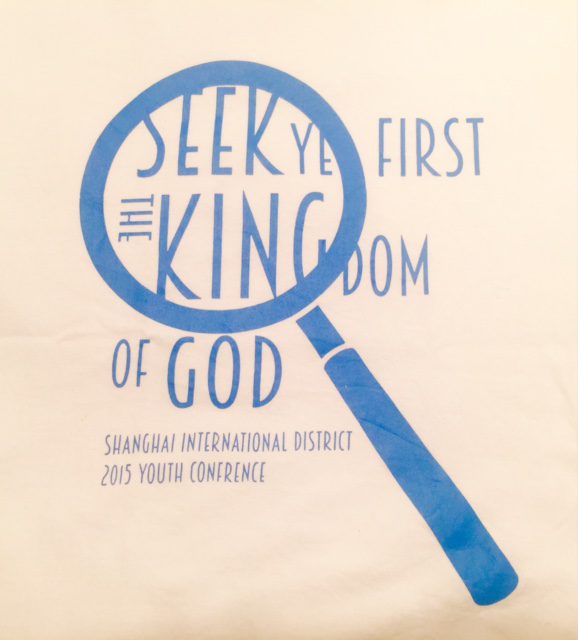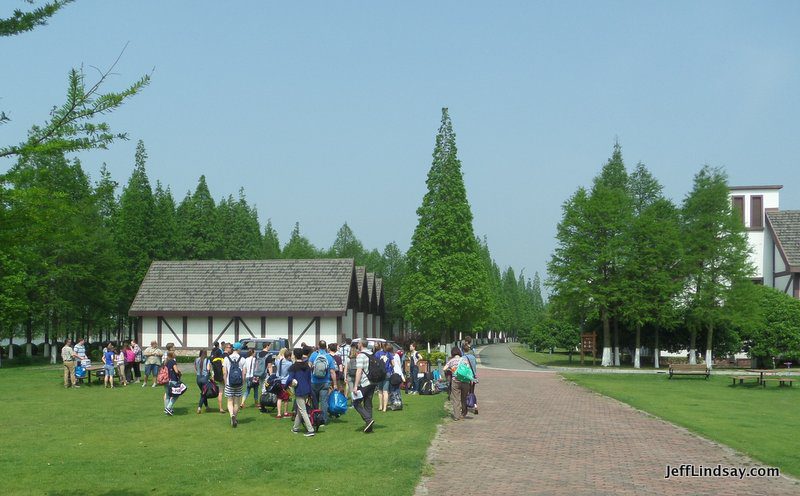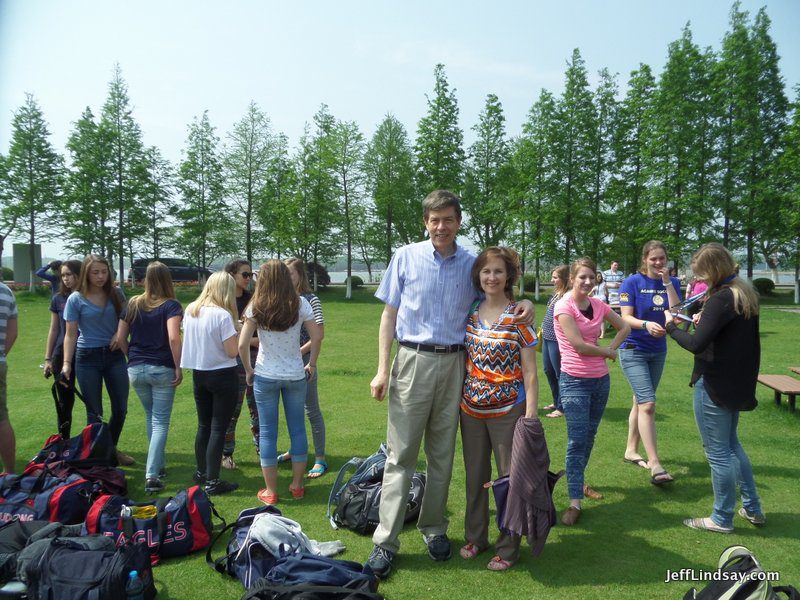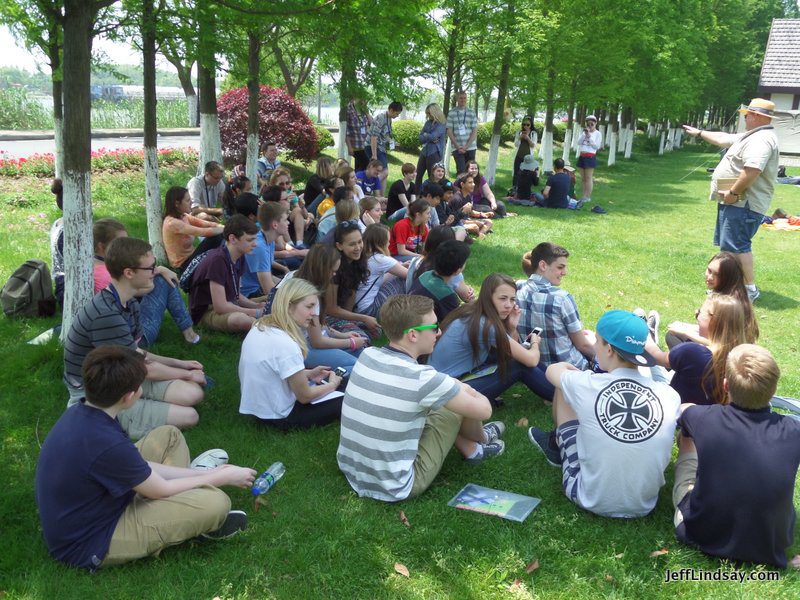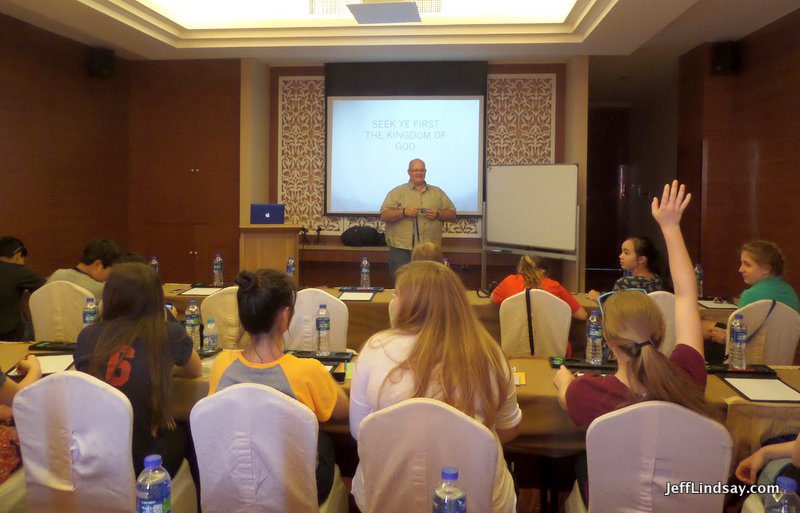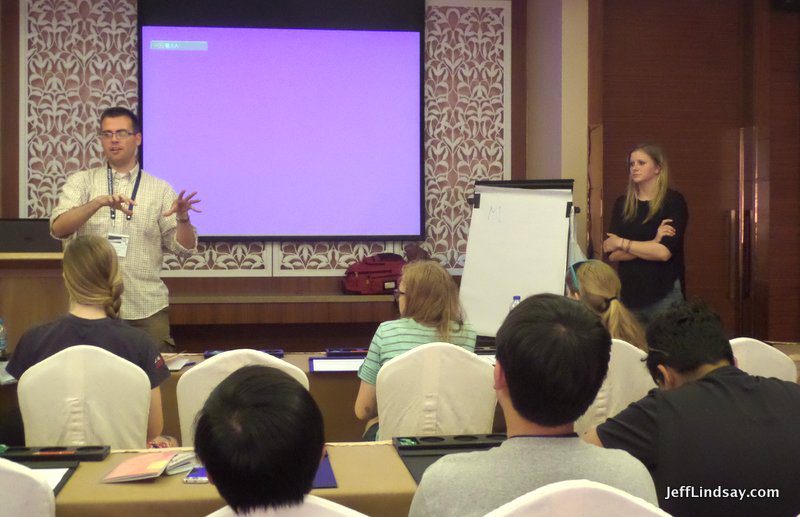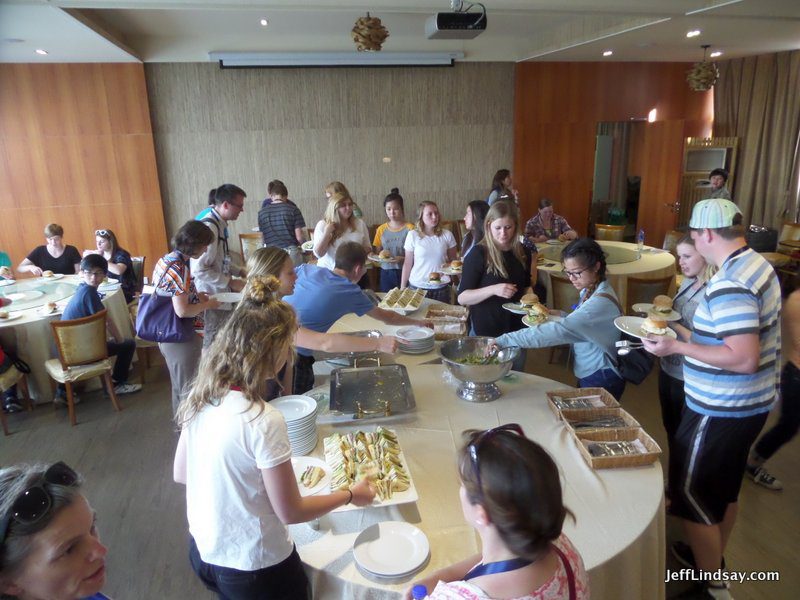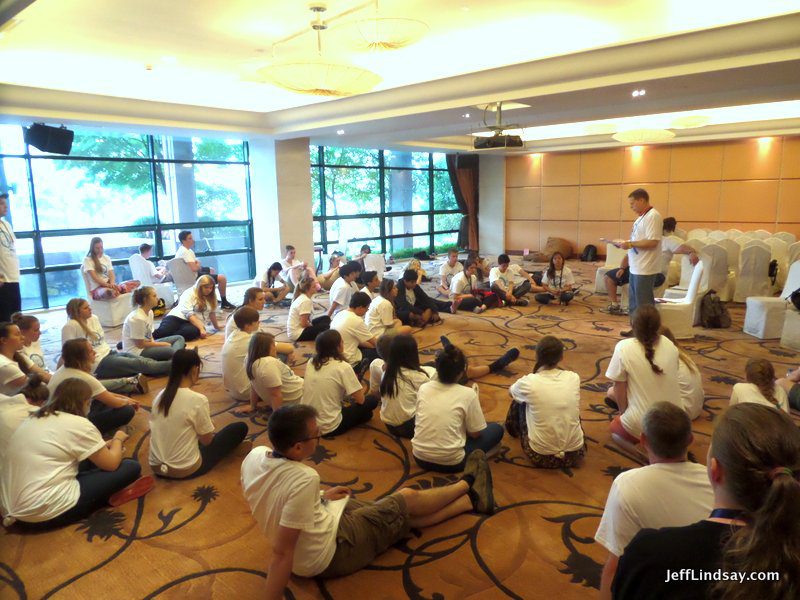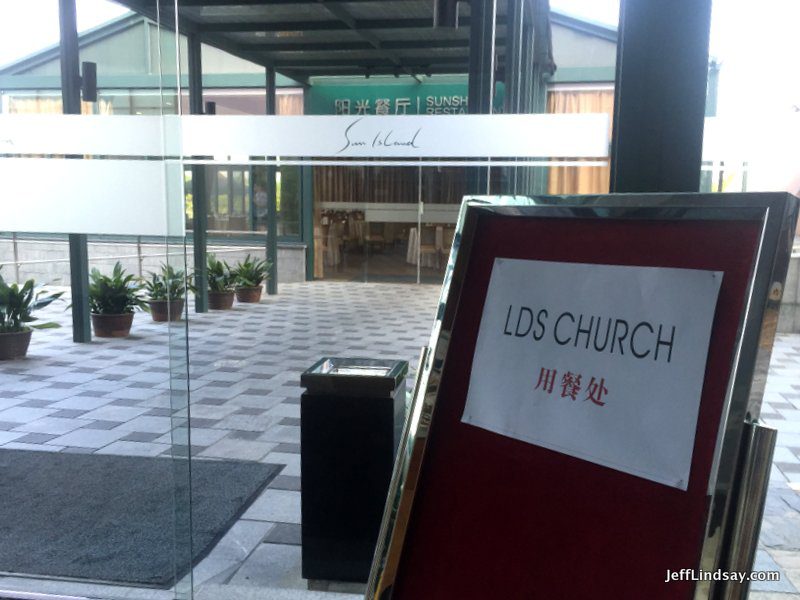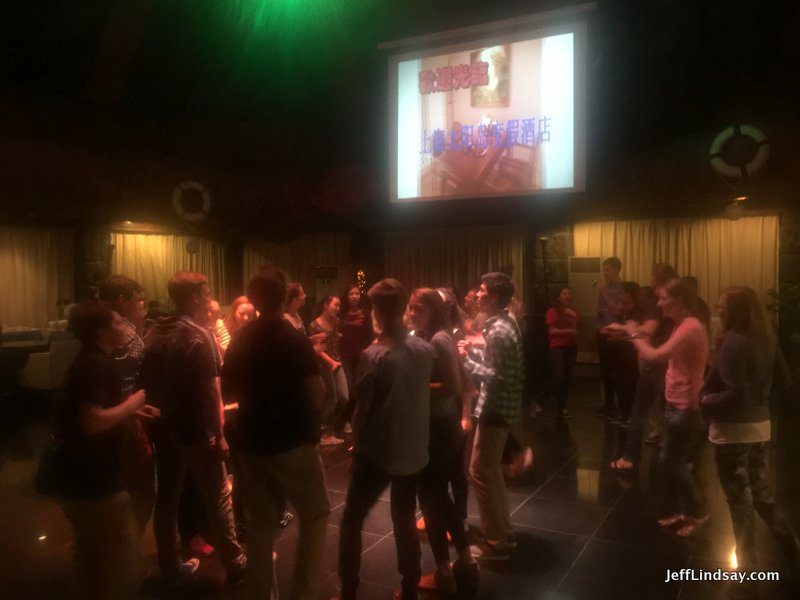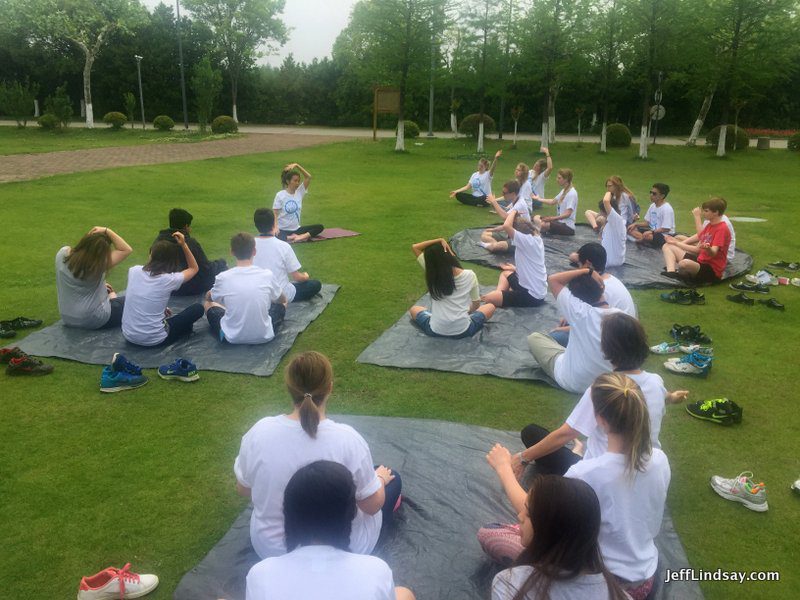 [Originally posted at the Nauvoo Times.]