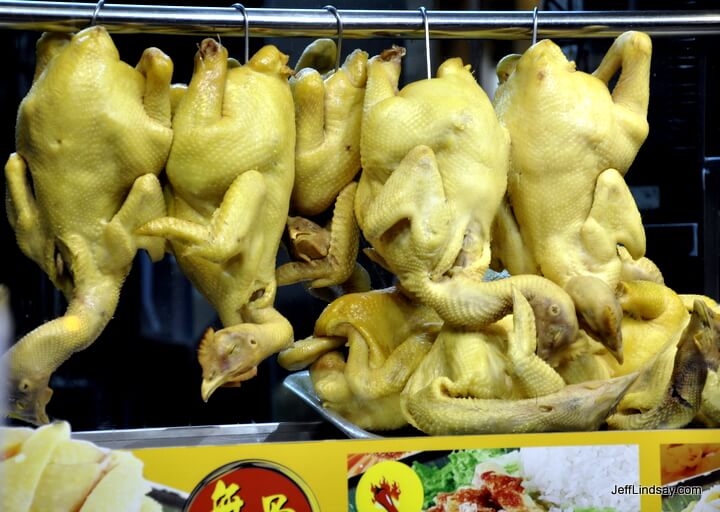 Sacrificial victims in Hong Kong, a low-COVID-19 city.
"It's not any lockdown that's taming the virus," Ollie explained to me in our interview. "It's the chicken sacrifices. This would be the worst time to stop them or we'll have a total disaster. They are working, but we must increase our faith and the chicken body count. This is all a scientifically obvious fact and you cannot disprove that. The chicken sacrifices are working, and that's why the curve is being fattened."
"You mean flattened?," I interjected.
"Fattened, flattened, who cares? What matters is the lives we are saving with science. The science shows that our chicken sacrifices are working to save human lives. We're the ones making this happen."
"But Ollie, what's the evidence that it's actually the sacrifices and not the lockdowns or other factors that are affecting the disease?"
"Can't you see? After we called for worldwide chicken sacrifices in February, the sacrifices began and soon the expected number of COVID-19 deaths began to decline and the spread gradually slowed – because, of course, the sacrifices are working! Science is real."
"But what about some of the spikes that we are seeing in places like Wisconsin?"
"Those correlate perfectly with a lack of faith, leading to a decline in chicken sacrifices or sacrifices that weren't done properly. It all fits! Look at these charts! I'm warning you, if we don't do more sacrifices more faithfully, we'll see more spikes, even very big ones, but if we do see numbers dropping, it will show the sacrifices are working. It's our work that's making all the difference in every state and nation – and the hard work of many others who are following my guidance. It's our science-based faith that's controlling the virus."
I was fascinated with what I was learning from the Chief Executive High Priest, Ollie Fogey, leader of a mysterious faith-based group that is sometimes called the "Cock-a-Doodle Cult," more formally known as the Worldwide Worshippers of the Great Goat God (WWGGG), a god who apparently has a strong animosity toward chickens.
Frankly, it was hard to argue with the evidence. Every dip and rise of every curve had an explanation that fit his paradigm. Maybe we do need to offer more chicken sacrifices. All this time the rest of us were thinking that the lockdowns were doing the trick, or maybe just the social distancing and good hygiene that people were doing on their own, but the evidence for the success of chicken sacrifices might just be even better than any evidence for the success being claimed for the widespread lockdowns, and might be a little more logical, too. Frankly, I just couldn't see the logic in the idea that shutting down gyms and small scattered businesses made us safer and healthier since the result was everyone congregating at Walmart or those "essential" liquor stores. Ollie at least had some logic and snazzy charts on his side, if you can accept the idea of an angry goat god who dislikes chickens.
This religion, or "cult" as they prefer to be called, has a unique and allegedly scientific approach to dealing with COVID-19. I had the rare opportunity learn more through an interview their leader while he was in Wisconsin last week for their annual Spring Sacrificial Rites and Chicken Fry in the backwoods of northern Wisconsin during a beautiful full moon.
Ollie says he can neither confirm nor deny rumors that the WWGGG was given massive Federal bailout that was buried in the hundreds of pages of emergency COVID-19 legislation that was recently signed into law. Since nobody, especially our politicians, has had time to read the new laws, it's still too early to know which special interests are getting how much. But WWGGG claims to be at the forefront of dealing with the Corona virus, and wants credit (if not cash) for what they have done for America and the world.
Though known to believers as "Grand Exalted Chief Executive High Priest and Nemesis of All Poultry," WWGGG Chief Executive High Priest Ollie Fogey simply goes by Ollie when dealing with non-believers. He's a charming and passionate retired mechanical engineer turned Kansas farmer who became "enlightened" after being struck on the head by a flying shingle during a thunderstorm. When he came out of the coma two weeks later, he announced he was the spokesman for the Great Goat God. Thanks to great social media marketing, his movement has gone global and he now leads literals dozens of worshippers around the world engaged in "science-based" goat worship. He guides them through his role as Chief High Priest of WWGGG, and also advances the mission of WWGGG through many humanitarian projects through his influence as a board member of the Great Goat God Foundation.
It was still damp and cold right after the Spring Sacrificial Rites when we met. Believers huddled around the fires where the hundreds of sacrificed chickens were being deep fried. We shared a couple plates of fried chicken during the interview. Absolutely delicious, thanks to a secret revealed blend of herbs and spices. Proper social distancing was maintained for the interview.
Q. "Ollie, what's up with the chicken sacrifices? Why would your Great Goat God want that?"
A. "Anyone who has run a farm should know that the wisest farm animal, the goat, is terribly annoyed by chickens. They are the nemesis of all that is goatly. The Great Goat God is most pleased when chickens are sacrificed."
Q. "And you think this has something to do with COVID-19?"
A. "Absolutely. COVID-19 is an expression of the Great Goat God's anger toward humanity. He must be appeased by more chicken sacrifices. That's our faith, but it's not just faith – the science is firmly on our side."
Q. "Science?"
A. "Certainly. The science shows a perfect correlation between our work and the progress being made in the disease. Did you not read my global pronouncement in February? As the disease first began spreading to the US and Europe, I announced that 100 million would die from the disease – 25 million in the US alone – unless chicken sacrifices were increased significantly."
Q. "25 million in the US? Even the most extreme computer models were only predicting 2 million deaths, and that was way off."
A. "Those models are worthless and have never been close. Computer models can't foretell the future, but chicken gut models can, and they consistently showed 25.2 million deaths, with a 95% confidence interval of plus or minus 0.3 million."
Q. "Chicken gut models?"
A. "Yes, it's a very scientific process of extracting future-oriented data from the entrails of a properly sacrificed chicken. It takes into account biomolecular metrics, climate change, geomagnetism, big data, forensic epidemiology, green energy, quantitative easing, and it's 100% organic and totally sustainable."
Q. "That actually works? How do you know?"
A. "It works most of the time. It's a gift. When the prediction fails, though, it means the bird wasn't sacrificed properly. When it comes true, it shows the sacrifice was done properly. Very reliable correlation."
Q. "But COVID-19 is now on the decline, and there's no way it will reach 25 million deaths here."
A. "Yes, of course, because the chicken sacrifices are working. Don't you get it? Our faithful members, with literally dozens on every continent except one–"
Q. "No believers in Antarctica?"
A. "Wrong, we've got a Level 3 priest at Russia's Vostok Station who is offering regular sacrifices as best he can – frozen chicken nuggets – and that's clearly helping to stave off the disease in Antarctica. It's Australia where we don't have members yet. A troubling lack of faith."
Q. "So you would predict Australia should be in chaos from COVID-19?"
A. "No, there are chicken sacrifices still being conducted vicariously, in a way, as the people there respond to my calls to increase their consumption of chicken."
Q. "So the data for your success can include actual chicken sacrifices or general chicken consumption?"
A. "It's fluid. Faith and life are complex things. But all the data conforms to my expectations and shows that sacrifices and/or chicken consumption is appeasing the Great Goat God and resulting in progress. Or sometimes in lack of progress where the sacrifices and chicken consumption aren't enough."
Q. "Can you explain why New York is so hard hit, while other large states like Florida have much less trouble?"
A. "Certainly. New York has two great problems. One, there burdensome regulations make it very hard to do a chicken sacrifice properly, so fewer sacrifices per capita is a big problem there. Second, New Yorker's don't like chicken all that much, and they really dislike Chick-Fil-A. There's just a handful of restaurants for the whole state. Lack of sacrifices and low chicken consumption angers the Great Goat God. But we are ramping up our efforts there, so we've seen some progress recently and avoided total disaster, thanks to our work. But if Cuomo or de Blasio take any credit for their recovery, it's a lie. The science shows we deserve the credit. Also, consider South Dakota, with very few deaths and no lockdown. You know why? Because of their enlightened laws that make it easier for my followed to carry out frequent chicken sacrifices. Plus South Dakota has a lot of goats. It all fits."
Q. "Ollie, what motivates you to do this? Some say there are conflicts of interest involved with all this chicken consumption you are calling for. Do you stand to profit?"
A. "It's only natural that I should try to influence society where possible for the greater good of mankind. That's why I'm on the board of Tyson Chicken, Chick-Fil-A, KFC, and a few other companies that are at the forefront of saving the world by appeasing the Great Goat God through their valiant commercial enterprises. But it's not about profit, it's about saving lives."
Q. "I guess that's reasonable. What's next for your cult when this virus is tamed?"
A. "There's always another crisis ready to hatch, waiting in the wings, so to speak. We are already devising science-based ways of applying our faith to cope with the demands of climate change. My chicken entrails modeling shows that the Great Goat God may soon express more anger with climate change, or possibly hyperinflation from excessive dollar creation, either of which will call for vast increases in chicken sacrifice. And there are other diseases yet to be tamed. Our faith and our science will both be in the right place at the right time."
Ollie's message may be one that humanity desperately needs. Come to think of it, the lockdowns may have forced more people to rely on high-chicken fast food rather than more expensive low-chicken restaurants, so chicken consumption probably has increased due to the lockdowns, which may be fueling WGGG's impact. And the New York data certainly seems in Ollie's favor. It all sort of fits. What if Ollie is right?
As we see signs of progress in fighting COVID-19, I expect that we will soon face a new round of controversy as different parties contend in claiming credit for the success. Will our victory be due to Dr. Fauci's wise guidance, to the visionary leadership of the Democratic Party or the Republican Party, the steady influence of the Gates Foundation in moving us to a vaccinated utopia, the inspiring example of local leaders like Governor Cuoma or Mayor de Blasio, the courage of California leaders in forcing people away from sunny beaches and covering a skateboard park with sand, or the tsunami of economic and policy influence from the legendary geniuses at the Federal Reserve Bank whose next brilliancy may be negative interest rates as the sure-fire economic cure to cure all cures? Maybe it's Ollie and his small cult of goat worshippers whose chicken sacrifices and calls for increased chicken consumption that are doing the trick by appeasing a very irritable Great Goat God.
If you have better scientific tools to identify who should get the credit for our progress in avoiding the millions of predicted deaths or for the eventual taming of COVID-19, let me know. Meanwhile, I'm off to Chick-Fil-A for a science-based meal. If it saves only one (human) life, it will be worth it.
Meanwhile, dear readers, remember, you are safer at home, so please don't go out into the dangerous sunlight, don't go out into the fresh air, don't get any outdoor exercise, don't get a haircut (unless you are a mayor or something special), and for goodness sake, please just sit around gorging yourself with chocolate, ice cream, and liquor. It could save a life, though probably not yours.
Related resources: