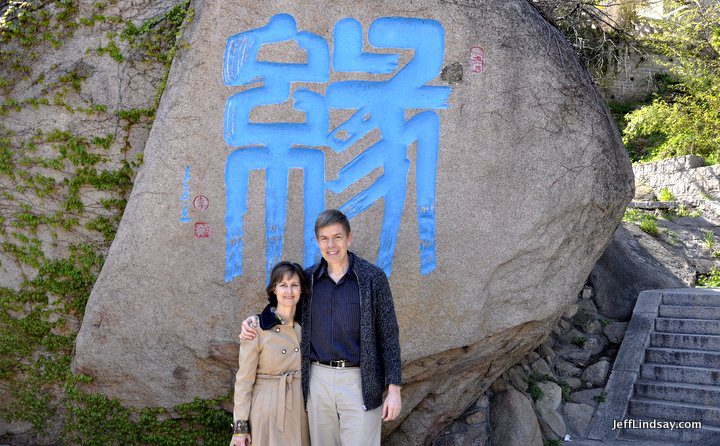 From several years ago, a photo of my wife and I

at Mount Lao near Qingdao, China, by a large

stone with the word "yuan" meaning destiny or fate.
In Chinese culture, the concept of "yuanfen" plays a significant role, referring to the fate or destiny that may be behind our encounters. The "yuan" part of that word is a truly beautiful and mysterious character.
After writing about the issue of coincidences vs. blessings from above in my past post, I had an experience that reminded me of just how rich my life has been made by various coincidences and chance encounters, especially those that seem to have a bit of "yuanfen" to them. Whatever the cause, these things have been great blessings to me, and I don't think there is any risk in expressing such gratitude to the Lord, even if He might not wish to take credit for all of it.
A few nights ago my wife and I were enjoyed the blessing of a series of coincidences as we joined some of our favorite friends for dinner. This dinner was special to me in many ways and involved a number of interesting coincidences. The people we were with were what made it truly special: a recently retired engineering professor and his nuclear scientist wife. along with their daughter (a brilliant teacher in New York) and two of their neighbors, another engineer and scientist wife pair with some surprisingly similar interests.
As were were enjoying an exciting conversation on numerous topics and eating some especially interesting and artful food, we had the most remarkable view from the 50th floor of a gorgeous building that I have long wanted to visit. The view of Shanghai was just stunning, but it touched me with more than its beauty. The restaurant spanned the entire floor and provided a 360-degree view of the city, but the particular slice of the city we could see from our table next to a window was especially meaningful to me. By chance, we were overlooking the first apartment building we had lived in and the crazy and interesting old city around it, leading us to ponder on our arrival here and our evolving story in Shanghai.
Further, as night settled upon the city and its skyscrapers began waking up with bewildering lights, the newest and probably brightest tall building on our side of the Huangpu River suddenly caught my eye with its full-building animated display. In between colorful scenes, it was showing the name and logo of my company, APP China, the company that brought me here to help them with intellectual property and innovation. For a moment, I had the sense of looking at a slice of the past, the present, and the future (perhaps the future part is because I always get a sense of looking at the future when I gaze at Shanghai's skyline, but the majestic new building that caught my attention made somehow made me think about my future here). How unexpected and off, to see my company's logo so prominently displayed across a mammoth screen about two football fields long.
Another coincidence began a few days before this I was looking up at the tallest building that watches over a beautiful and popular part of Shanghai called Xujiahui, not far from where I live. I looked at that building — the one I was now dining in — and thought, "I really would like to go there sometime." It's a building that has impressed me for years and I have often wondered what was in there on the upper levels, but have never had cause to go. A couple of days after that, I had the pleasant surprise of the invitation to dinner on the 50th floor from a professor friend of mine. I was so happy to learn where dinner would be. It was truly exciting to be there and to eat some of Shanghai's most artistic food at the City View Cafe at the Pullman Hotel. Yes, that's a high-end restaurant, so I was worried that our friends were taking us to a terribly expensive place, but with their typical savvy use of online deals, they had booked a set meal promotion that I think was reasonably priced and mercifully not too heavy (I prefer meals that are light but adventurous, and this was perfect for my tastes). It was certainly a wonderful way to treat their daughter and friends.
The most meaningful coincidence associated with this remarkable meal began over 7 years ago, a few months before I was invited to consider a job in China. I was traveling on a work assignment and was in the Chicago airport between flights. As I stepped off my plane and began walking to my next gate, I walked past a Chinese couple struggling to communicate with a United Airlines agent at a nearby gate. Even though my Chinese was very basic, I felt like maybe I could help, so I walked over and talked to them in Chinese. They were on their way back to China, having just landed in Chicago, and were wondering where they needed to go to forward their checked bags to Shanghai. They were thinking of the process they faced when they came to the US as they went through customs in Chicago, a process which involved getting their checked bags and then after clearing customs taking them to another agent to be sent to their next flight. But for their return flight, that wasn't needed, and their bags would go directly all the way to China. I helped to explain this, and while I wasn't really all that helpful, they were so happy to have an American interested in China try to help them that they have me their contact information and told me to please visit them if I ever came to Shanghai. That chance encounter would be one of the sweetest random blessings in my life as we meet periodically with them and other friends of theirs. They are such thoughtful, kind people who represent the very best of China.
Our appealing meal with its particular view, the restaurant in the building I had just wished to visit, and the dear friends whose lives are tied to mine now through a delightful chance encounter, all represent chance and coincidence, beautifully arrayed to make my life more meaningful. Such small means, random or not, pure chance or not, can with the touch of the Lord's hand become meaningful and precious, like many of our friendships and relationships in life. Do not overlook the possibilities that can arise from chance encounters, nor discount the kindness that may be shown to you through coincidence. Be grateful for it all and welcome the Lord's ongoing guidance on how to respond to the opportunities and blessings that may arise from chance, or at least seem to.