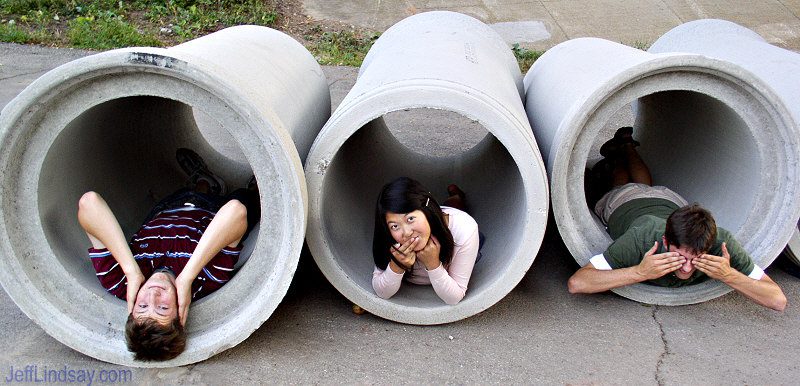 Our prejudices about religion or other topics can keep us from hearing, seeing, or speaking good. Sometimes what others have – Mormon, Catholics, Evangelicals, whoever – might be remarkably praiseworthy, but it's hard to admit that, hard to see that there is any logical reason to support any of the views that we don't like. It's a problem that affects us as much as anybody, and we need to constantly examine our assumptions and prejudices.
One little pet peeve of mine in this area deals with Book of Mormon evidences. Discussions of the details of the Book of Mormon, the witnesses, internal or external evidences, finding from the Arabian Peninsula and Mesoamerica, etc., are often dismissed as simply irrelevant and a waste of time, because Joseph Smith, so they say, was clearly a fraud because of polygamy or other issues and the Book of Mormon thus can't possibly be true. When you refuse to consider evidence, when your mind is made up, nothing can get through the eyes or ears into the head. That burning spiritual indigestion in the heart closes all channels to the mind.
That doesn't mean anyone has to pay any attention to the Book of Mormon or LDS claims. But those who are seeking to understand the Church, as well as all those step up to have conversations with us, to pose questions and make arguments, would do well, in my opinion, to move past their anti-testimony and open their mind. What if there really were gold plates and honest witnesses who saw and held them? What if Joseph really did translate the plates through the power of God – whether that involved looking into a Urim and Thummim in broad daylight or covering a seerstone in a hat and looking into it? What if there really was no way for Joseph Smith to have fabricated, say, First Nephi, with its accurate descriptions of travel through the Arabian Peninsula? What if, in spite of all the human flaws and failings of our modern prophets and other leaders, they really were part of a divine process of restoration? What if some of the creeds of modern Christianity really were influenced by Greek philosophy in ways that departed from the true understanding of God and Christ as understood by the earliest Christians, and what if there really was a loss of authority and some truth that required a restoration?
For those investigating the Church, I think it would be healthy to start by allowing for the possibility that it might be true, and begin with putting the Book of Mormon to the test.
The critics will naturally challenge us to return the favor and allow for the possibility that Joseph Smith was a fraud and that the Church is not true. Well, that's where I began in seeking my own personal testimony. I was resolve not to stick with the Church if it was a fraud, no matter how wholesome the youth programs were and how seemingly good its teachings, because I didn't want to waste my time (and money) here in mortality. I absolutely allowed for that possibility, and have many times since. A study of the Book of Mormon is what gave me my own personal witness of the reality of the Church, and there has been much that has happened since then that has helped me to see the hand of the Lord in the restored Gospel of Jesus Christ (along with a lot of mortal smudge marks, to be sure).
Meanwhile, as we deal with other Christians and those of any other faith, including those who don't believe in God, common assumptions we may make will frequently need updating when we look past our prejudices and see what they really have. We do not have a monopoly on truth, nor do we own the patent on goodness, family love, caring for the poor, or Christian living. There is so much to learn from others, if we'll just give them a chance to share.