Greetings from Russia! What a fabulous country with warm, interesting people and so much culture. Here's a quick thought based on contemplation of Lenin's tomb (and tombs everywhere). Does he still exist? Whether you think he was a hero or villain, is there anything to the human being known as Lenin besides the body in that tomb? Is the spirit just the "life force" that vanishes when one dies, only to be recreated later for final judgment?
As a Latter-day Saint, a belief in the persistence of the human soul is an important part of my view of the world. We Latter-day Saints understand that there is a vital part of us that existed before we were born and continues to exist after we die. Indeed, we are spirit beings now clothed with flesh – here just once to obtain a body and prepare for the Resurrection and immortality (we reject reincarnation). Our spirits are children of our Heavenly Father and persist regardless of what happens to this body. Thus, Lenin still exists as a spirit in the "spirit world," and what is in the tomb is relatively immaterial, so to speak. Our thoughts, memories, personality, etc., indeed, the "self," reside with the spirit when we die. On the day of Resurrection, the spirit will be reclothed with the body.
The belief that humans have living, persistent spirits makes a lot of sense to me, and I think that is the most reasonable way to make sense of many passages in the Bible. I'll discuss this in an upcoming post. Some of it will be based on an article about the dead posted on my Website. (Hint: What did Christ mean when He told the thief on the cross that he'd be with Christ that day in paradise – many hours before Christ would actually Resurrect and return to heaven, or what did Christ mean when He told the story of the rich man in Hades and Lazarus? What did Christ mean in Luke 24 when He told his disciples not to be afraid because a spirit doesn't have the tangible flesh and bones that Christ had then? Many more such questions….)
I understand that there are other views from people who also cherish the Bible. Yes, it's always possible to come up with alternate views on every matter of theology. I know some people whose view seems to be that we are pretty much completely gone at death, and that the Lord recreates us an immortal version of us for the day of judgment – a body with our thoughts and memories restored, but with no need for a persistent soul. I struggle with that concept. If I'm a monster in this life and vanish at death, it seems like I would have escaped without justice. Should I be troubled if a copy of me gets recreated and punished later? Ditto for the blessings of accepting the Gospel – forming a clone, so to speak, with my memories and giving him eternal life is nice, but would that really be me?
I guess Star Trek poisoned my theological openness here. As a child and teenager, I used to love the concept of beaming around to places and wanted to invent a transporter beam one day. But then I ran into a Star Trek book and an episode that explained the details of the device. When people entered the transporter beam, the transporter destroyed you one molecule at a time and the made a complete copy somewhere else. In other words, it killed you, but – good news – made a clone somewhere else. Nobody noticed the difference – except, perhaps, humans with a spirit who would suddenly find themselves in the spirit world right after speaking their own death sentence: "Beam me uip (or down), Scotty." Yeah, that bothered me. Making another working model somewhere else just doesn't seem comforting (I've never allowed myself to be beamed anywhere, for the record, so I've still got my original soul, I think.)
Oh boy, I can see what jet lag does. Never mind. Greetings from Russia!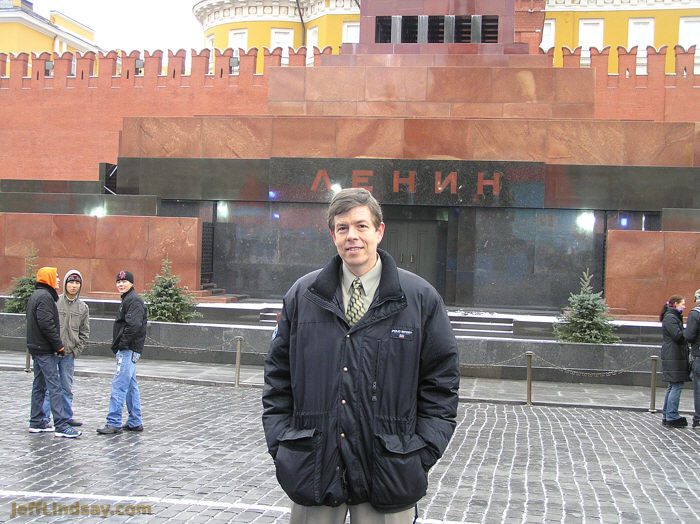 (Lenin's tomb.)