Many of us Latter-day Saints wish to avoid R-rated movies. We've had Church leaders wisely counsel us to avoid them. That's a simple guideline to follow and I see no harm in eliminating such content from our lives. But many people mistakenly assume that a rating of PG-13 or PG means that the content is much less offensive than typical R-rated content. The truth is that the level of violence and sexuality in some PG-13 movies or even PG movies can be what traditionally would automatically bring an R-rating. Be warned that ratings can sometimes be meaningless. Do your homework first.
One resource to screen content is Kids-In-Mind.com. There you can read details about content in terms of language, violence, and sex. Movies today have become so degenerate that just reading the descriptions of the content can be pretty disturbing, so be warned. But you don't have to read the details: they have an easy-to-see graphical indicator for each of these levels, going from 1 (minimal) to 10 (extreme). Here's their scorecard for Beowulf (full unsavory review here):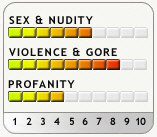 A non-LDS movie reviewer in my local paper today points out that the content of Beowulf is clearly what most people would expect to be R-rated. He writes that when R-rated content in movies like Beowulf and Lord of the Rings (gruesome, persistent violence) gets away with only a PG-13 rating, the ratings become relatively meaningless. To me that means yes, I want my family to avoid R-rated movies, but we must also be increasingly cautious about all other movies as well. This is very old news, but worth repeating. I see too many parents who have no qualms about letting their kids see PG-13 movies. Mistake. And it's not just the kids we should worry about. None of us adults can stay close to the Spirit of the Lord while taking in some of the offensive content that our Adversary has inspired. As part of the many standards and commandments the Lord has given for Christians, Christ warned of how serious a sin it is for a man to look on a woman in lust (Matt. 5:28), and we also read in the scriptures that to lust for a woman is to deny the faith (Doctrine & Covenants 42:23). Can you watch the salacious depictions of Hollywood without being affected? Gratuitous depictions of wanton violence doesn't seem to be particularly godly, either.
Having been flamed for such comments in the past, let me jump ahead and save some of you some time: "What's wrong with you? Are you so insecure about the human body that you get all uptight when it is presented on screen? Can't you handle the reality of sex and violence?" OK, yes, I do have this hangup that makes me feel offended when women's bodies are treated like playthings and when the private beauty of human intimacy is publicly degraded to a lurid tool for profit by shameless businessmen. And I am very uncomfortable about the human body – mine or anyone's – when it is being hacked, sliced, burned, tortured, stabbed, and mangled, all for the profit of powerful corporations who prey on the worst within us.
But to their credit, mega-gore movies like Beowulf and the dismal Lord of the Rings series at least spare the viewer from depictions of ritualistic waterboarding and taser abuse. I guess they had to draw the line somewhere.