Happy Hallmark Day, everyone! In some wards, there is an unwritten rule that instead of preaching the Gospel of Jesus Christ on this momentous day, speakers instead must spend their time telling endearing stories about their mothers, including recollections of childhood events, maternal quirks, and an abundance of trivia. In other words, the talks should sound something like funeral eulogies, with many of the subjects still living. (This is not true of many wards, fortunately, which manage to keep Mother's Day talks Gospel-centered.) I hope your ward is on the cutting edge and does not feel an obligation to let the topic of the sermons be dominated by Hallmark Day. OK, that's not fair. I should also call it Florists Day.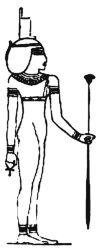 Many people think that Mother's Day is a modern innovation created by greeting card conglomerates. But the history of this holiday is much deeper, with roots going all the back to Egypt, where there was an annual festival to honor the goddess Isis, the mythical Mother of the pharaohs and the goddess of gift shops. The ancient Egyptians depicted her carrying a bouquet of flowers in one hand (though sometimes a single rose or lotus blossom is shown), the keys to her gift shop in the other hand (the "ankh" symbol, the symbol of endless economic life and business vitality), and a pop-up greeting card on her head. So yes, the core values of this holiday are ancient indeed.
Mother's Day in the US also has roots in Julia Ward Howe's Mother's Day Proclamation in 1870. The woman who wrote the The Battle Hymn of the Republic in 1858 had become disgusted with the carnage of war and wanted mothers to join together in preventing the unnecessary slaughter of their sons. In her proclamation of 1870, she wrote:
Arise, then, women of this day!
Arise all women who have hearts,
Whether your baptism be that of water or of tears
Say firmly:

"We will not have great questions decided by irrelevant agencies,
Our husbands shall not come to us reeking of carnage,
For caresses and applause.
Our sons shall not be taken from us to unlearn
All that we have been able to teach them of
charity, mercy and patience.

"We women of one country
Will be too tender of those of another country
To allow our sons to be trained to injure theirs."
Not the sort of thing we see on Mother's Day cards today, but I can respect her feelings on the matter.
Sadly, this post has anything to do with the Gospel. So feel free to quote from it if you're giving a talk in Church today. But starting next week, please, let's get back to business! Or rather, let's get back to the Gospel. Isis, Inc. (the secret owner of Hallmark, Flowers.com, and Hershey Chocolate) has the business part covered already.
For the record, I think mothers deserve a lot more respect and appreciation than they get. Oh, in case you're reading, Hi Mom! Hope you liked my card.
Update: The Neenah, Wisconsin Ward did pretty well today. While the speakers did discuss mothers and motherhood, there was scriptural content and uplifting insights, and not everyone recited the same "sons of Helaman" passage that mentions the impact of mothers teaching their children. And the music was pretty good, too.
My point here is not complaining about honoring mothers, but my discomfort with the trivial, non-Gospel oriented content that I've often encountered in Mother's Day talks (ditto for it's paternal twin), plus some discomfort with letting the existence of a highly-commercialized secular holiday seem to dictate when and what we preach. But I guess it's what we all expect. That's OK – as long as we remember that sacrament meeting is a time for worship of the Lord, covenant renewal, and spiritual edification, regardless of which secular holiday we might be acknowledging (e.g., Mother's Day, Father's Day, or Superbowl Sunday).