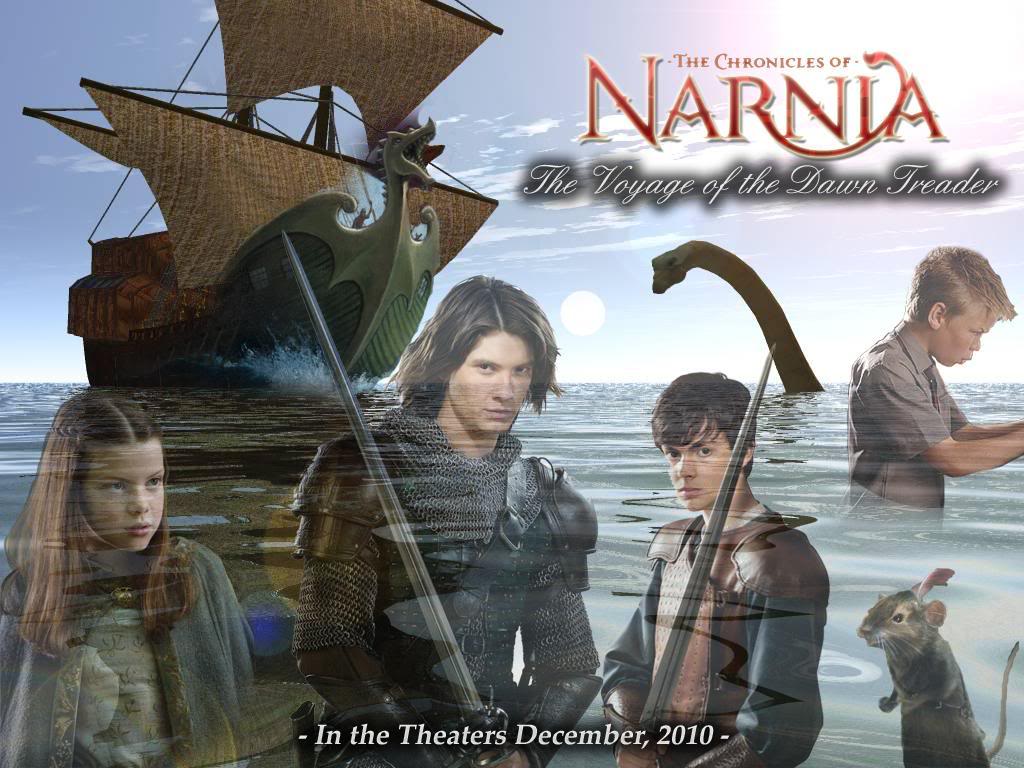 I went with my wife Friday night to see the opening of the new movie in the Narnia series, The Chronicles of Narnia: The Voyage of the Dawn Treader. If you love C.S. Lewis and his fanciful Narnia tales, you should enjoy the movie spite of some departures from the book. If you like adventure and fantasy stories appropriate for families, you might like it also. I really enjoyed it, especially as I considered what C.S. Lewis might want people to understand about this and about our fallen natures and the hope that God gives us through his Aslan-like Son. A key element is the personal journey of Eustace from whining boy to dragon, even a dragon who chose and did good, and then was freed from his reptilian scales by the power of Aslan.
In terms of enjoyment, I think the special effects were my favorite part of the movie. The water management team did a great job both with the standing waves at the end and the water that gushed into and out of the enchanted painting. Aslan is a wonderful computer animation as well. Very cool. The sea serpent was overdone, to the point of being corny and was probably too intense for young children, IMO.
I saw this in 2D (normal movie format), though it is available in 3D. From what I've heard, I think it might be more enjoyable without the 3D.
There were a few parts where I wanted to just say, "What?" Like landing at the main port of a strange and possibly hostile city, and having the king and three or four others wander in with with a crossbow or too. Nice way to lose a king in a hurry. Spend a few moments with some of our Marines to learn how to handle that kind of situation, guys. The table of Aslan scene also was less than appetizing. Creepy looking place with old frozen geezers sitting there–and we're supposed to trust the glowing star lady that the food is safe? Had it even been properly refrigerated and cleaned?
I often struggle with movies when there are major gaps in logic or science. Suffering through the eco-panic movie, The Core, was one of my most difficult experiences. (How does a small vessel with people inside travel for days through 9,000-degree molten magma and still remain habitable inside? Simple – they've got a tank of liquid nitrogen on board. That stuff is cold.) There were some such gaps in The Voyage of the Dawn Treader, but since it's intended to be a fantasy where the rules are a bit more fluid, it's easier for me to turn on the necessary suspension of disbelief to enjoy it. So I could deal with the whole passage to the alternate world Narnia thing, the evil island, and so forth – but I'm still irritated by that journal of Eustace. How did it manage to come along with him, in dry form, no less, after his unexpected passage to Narnia through a magical flood that left him nearly drowned and struggling for breath in a Narnia sea? Of such irritations is a trivial life made. I'll have to get over it, I guess.
Overall, a very fun movie with something of a plot, good special effects, not much gore, no salaciousness, and relatively good acting, especially by the computer-generated creatures. Had a fun time and was glad I went. Excellent for a date.
(Don't blame the movie but Lewis for most of my little objections, as Alex points out in the comments, but if I were directing it . . . oh, never mind.)