Some more random thoughts inspired by some random photographs . . .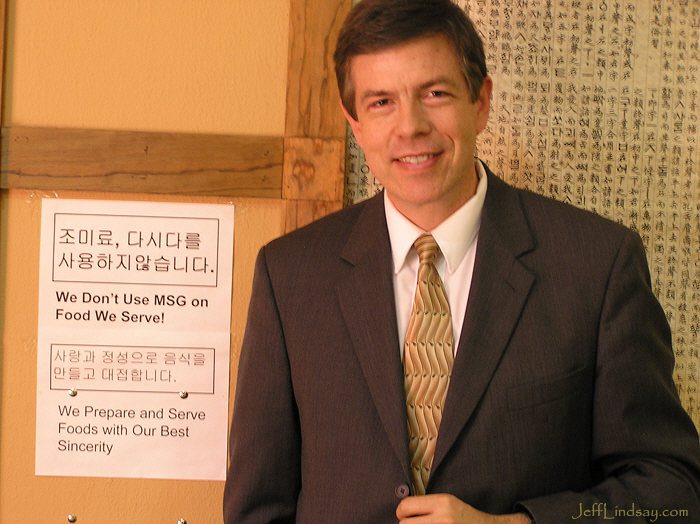 At a hard-to-find tiny Korean restaurant near the Chicago Temple, my wife took this photo of me next to the sign on the restaurant's wall. "We Prepare and Serve Foods with Our Best Sincerity." Fortunately, the chef had more than sincerity going for him. He also had skill and the right ingredients, tools, setting, and support staff to offer an excellent meal. But too often, we excuse people such as politicians, celebrities, pop psychologists, and ministers who serve crazy and dangerous courses in the realms of politics, economics, civics, business, and morality, with little more going for them than "sincerity" and "passion." Never mind that there is no depth of knowledge and evidence behind their proposals, never mind if it has brought ruin and bloodshed where others have feasted on the same fare elsewhere, never mind if every policy change they are calling for has been implemented with nothing but failure over the past 50 years – these sincere folks will tell us that we just haven't gone far enough along their yellow bricked road to see the Utopia they offer.
We shouldn't be shy about challenging popular notions that have nothing behind them but "sincerity." That includes harmful notions about morality, marriage, economics, social policies, etc. Sincerity is nice, but it's best when coupled with logic and substance, not insane hope alone or platitudes aimed at the gullible. And sometimes, we need to realize that the apparent sincerity of some might hide a highly insincere motive based on profit and power.
And yes, this cuts multiple ways. I'm sincere in what I believe, but my beliefs are inexcusably wrong and if I've resisted the efforts of the Lord to get me in the right path, being sincere in my stubborn and foolish ways won't help a lot – at least not as much as really listening to the Lord, and developing the skills and knowledge to properly live my life and fulfill my duty here. Isn't that what we all really need to be doing?
Anyway, it was a fine meal, sincerity and all. It's in a little strip mall just behind Szechuan Cuisine on Milwaukee Avenue close to Lake Street in Glenview. It's not the big Seoul Garden place – which is very nice, but twice as expensive as my authentic little hole-in-the-wall. Hope it's still there – it's been a few months since that meal.