I previously posted some information about the Christmas Eve Musical Devotional that has become a tradition in my part of the Midwest. In addition to my photos from 2003, a couple new pics from 2004 are below.
The event this year faced the ultimate challenge: with short notice, a Green Bay Packers football game was scheduled at the same time as our devotional. Which worship service would prevail? We feared that the pews might be empty, but again there were nearly 300 people present, just about a dozen less than we had last year. As usual, many non-members and less active members came, putting on the helmet of righteousness and the shoulder pads of faith.

A scene from the 2004 Christmas Eve Devotional in the Appleton Second Ward (Appleton, Wisconsin Stake).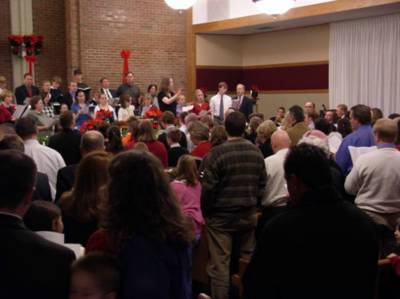 Another view of the 2004 Christmas Eve Devotional.