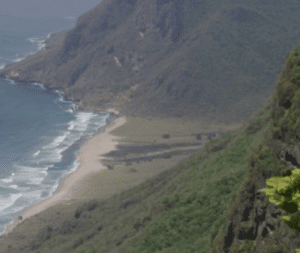 In spite of my appreciation for the highly interesting work of George Potter regarding the Arabian Peninsula and First Nephi, I find Warren Aston's earlier approach to be more convincing. Potter proposes a site known as Khor Rori in Oman as the site for the ancient place Bountiful described in surprising detail by Nephi. Warren Aston's preferred candidate, Khor Kharfot (at the mouth of Wadi Sayq), is about 60 miles to the south. Aston compares the two candidates in his recent article in Meridian Magazine, "Finding Nephi's Bountiful in the Real World." This is a valuable article with a number of photographs from the Wadi Sayq area. An excerpt follows:
Both these places have several features in common. Each lies "nearly eastward" of Nahom and can be reached from the interior desert. Both have sources of fresh water. They each have a sheltered harbor and each has cliffs overlooking the sea. We now know that both are within a few miles of an iron ore source. The differences between them, however, are striking.

On the one hand we have Khor Rori, in Lehi's day a populated pagan town and in later times a busy shipping port, with little natural vegetation and no timber at all near the coast. The lack of timber has led some writers to suggest that it may have been imported from India as was done in northern Oman. Even today significant vegetation grows only in small irrigated areas at the coast or many miles inland. Khor Rori is surrounded by the broad and arid Salalah plains reaching inland to the Qara hills. There is no "mount" closer than twenty miles where Nephi could pray "oft."

In contrast, Kharfot, hidden by the steep Qamar mountains, is the most fertile coastal location on the Arabian peninsula. Its fertility stretches several miles on each side of the bay. A variety of wild fruits and wild honey abounds and large timber trees grow — almost to the waters edge. A prominent mountain stands on the west side of the bay and at its base is an elevated plateau that would be ideal for a small community to live. It is a pristine place, almost certainly uninhabited in Lehi's day.

These differences between the two places can be summarized as follows:

| | | |
| --- | --- | --- |
| | Khor Kharfot | Khor Rori |
| Much fruit, honey | Yes | No |
| Shipbuilding timber | Yes | No |
| Nearby mountain | Yes | No |
| Flint nearby | Yes | None known |
| Unpopulated | Yes | No |

On balance, Khor Kharfot seems a much more convincing fit than Khor Rori. Over the years I have taken scores of seasoned Latter-day Saints to both sites and not a single person has ever felt otherwise. Typically, those who feel otherwise have not actually been to both sites to compare.
In recent email, cited with permission, Brother Aston also notes that "the Potter/Wellington book does indeed add to our understanding of Lehi's Arabia" but has some major flaws after Nahom:
Rather than a nearly eastward route to Bountiful, the Potter/Wellington route "goes E, SE, N, NW! E again and then SSE. In fact a pathway of rolling stony plateaus leads east from Nahom right to the Dhofar coast [both Bountiful candidates are in the Dhofar region]. It leads between two sand deserts and allows travel in a nearly eastward direction, just as Nephi wrote.

This finding (based on satellite imagery and my own travels in Yemen) is one of the major discoveries of recent years but still not recognized as such due to the tendency to not take the prophets at their word. Even the video Journey of Faith fell into what I call the dogleg-route trap when discussing travel to Bountiful.

As for Bountiful, there are no traces of construction of a port at Khor Rori earlier than 300BC and it most likely dates no earlier than about AD 900. Therefore there were no old sailors around to share their expertise with Nephi as the Potter book relies on so heavily. I prefer to accept that he was guided from time to time by revelation as he stated. If you missed it, Meridian Magazine published a summary of my arguments for Khor Kharfot and against Khor Rori last month … so I won't repeat them here…. Khor Rori lacks the vegetation, timber trees and a mountain. Hope you make it over there sometime!
The existence of a plausible candidate for Bountiful – long mocked as an impossibility by anti-Mormons – must not be ignored. First Nephi provides directions that can actually be followed to find reasonable candidates for Nahom and Bountiful without straining the text or requiring great powers of imagination. There has been healthy debate over which of two or three candidates on the eastern Arabian coast might be the real thing. At the moment, I think Khor Kharfot by Wadi Sayq is the place. Thanks to all those who have worked, explored, and written so much to bring these things to light, including the Astons, the Hiltons, and the Potter/Wellington team.
2022 Update: George Potter has now published an update to the evidence for Khor Rori. Importantly, it is nearby Wadi Darbat, slightly above Khor Rori, that needs to be considered for the abundant foliage and fruit that it offers. See George D. Potter, "Khor Rori: A Maritime Resources-Based Candidate for Nephi's Harbor," Interpreter: A Journal of Latter-day Saint Faith and Scholarship 51 (2022): 253-294.