Monday morning was gloomy. Perhaps my most depressing day over my 8 wonderful years of ups and downs in China. This was a day of confronting some painful suspected realities. I can't share details, but I was struggling with an unusually aggravating situation and a sense of injustice in a scenario that makes even seasoned, cynical experts on life and work in China say "wow." I struggled though the morning trying to get a few things done. But there was a new distraction.
That morning I received a call from the Chinese President of the Shanghai Chapter of the BYU Management Society. This is a wonderful non-religious group dedicated to promoting moral and ethical leadership in the world, and I've been selecting speakers and organizing sporadic events over my years here in China. But for the event I had planned for Wednesday night, April 10, well, as of Monday morning we had a grand total of 1 RSVP. Ouch. I had already spent my morning time before work started making last minute invites. Maybe I needed to do a couple more. So right before my lunch hour, I remembered an old friend, Mr. Liu, who had left our company in 2017 but was still living somewhere in Shanghai. Did I have his email? I looked it up and was about to send him our flyer when I realized I was starving and needed to get some lunch.
With my friend on my mind, I went downstairs and noticed how beautiful the weather was. Instead of eating at one of the roughly 100 places all around and beneath our offices at the amazing Shanghai Arch and adjoining Archwalk Mall, I went on a walk and really felt I should head south to Xianxia Road. I recalled a building there with several Japanese restaurants. Surely there would be something really delicious to cheer me up. Food matters here in China, and it matters to me. So with high hopes, I walked into that building and immediately noticed a beautiful advertisement for what looked like a perfect meal for me, with veggies, my favorite fruit (red velvet dragonfruit) and some healthy salmon. Great!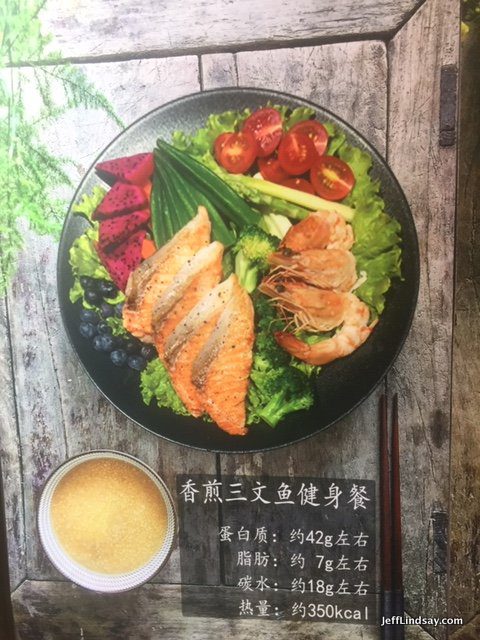 The large placard touting the

nonexistent meal I sought.
I went downstairs and spent too much time scouring the menus of three restaurants in search of that meal. I asked and tried to recall the full name of the dish, but got a strange look. So I went back upstairs to photograph the ad (shown at the right), came back down, and finally found the restaurant that offered the beautiful dish in question — or used to offer it, back before they discontinued it long ago, without bothering to take down their ridiculous ad that didn't even say which restaurant supposedly had that dish. No problem — for all I know, the photo was probably heavily Photoshopped anyway and the actual food may have looked more like chicken nuggets with a piece of wilted lettuce.
But there was a problem. I had already wasted 30 minutes of my lunch hour in moving from my office to that building and puzzling over multiple menus in my quest for something that didn't exist. Should I even bother eating now? I could just go back to my office and sulk productively.
No, I had felt that I really should come this way, down to Xianxia Road. So now what? I stepped outside and looked down the road and remembered there was another group of restaurants on Xianxia Road about 200 meters to the west (about 200 yards for those of you still not using the metric system). I walked over there and went in, thinking I would try a busy noodle shop I had seen there. Alas, it was closed! As was another Japanese place I had tried once before. And the Tibetan place upstairs. Sigh. I looked down a long hallway and saw some lights that might be for a restaurant. I started walking there and realized it was just a drink shop or something small, so I turned around and started walking back to my office, giving up on a decent meal today. That's when I heard a voice calling my name.
"Jeff! Jeff!" I was surprised for I didn't expect any colleagues from work to be over here. I turned around and saw an old friend, Mr. Liu, the very person whose name and email address were pulled up on my computer waiting for me to send him a flyer. The very person I had been thinking about as I began my walk. What was he doing here? There are several million people living between where I work and where he now works. I was really dumbfounded.
He and two other colleagues from work had decided to get together at lunch for a reunion, and somehow ended up at a tiny drink shop with one table and three chairs. They were sitting around the table, chatting, when Mr. Liu spotted me. I told them my story, and we all agree that this was a classic case of China's beautiful and mysterious concept of yuanfen (缘分), often translated as destiny or fate, often conveying the notion of the touch of heaven's hand in bringing people together. It was a classic China moment and we all realized that. China is a land of miracles and deep spirituality for all its overt atheism, which often is just a lack of organized religion in the lives of people who may still be keenly interested in the spiritual and aware of heavenly forces in their lives.
Adding to the mystery of this experience is the drink Mr. Liu bought for me. I was simply stunned that this little shop could offer such a heavenly beverage, a perfect mix of real mango and a coconut cream sorbet of some kind that was not too sweet and rich in real fruit and coconut, perhaps the best beverage/dessert I have had in China. And then, since there were four of us but only three seats in the drink shop, we moved next door to an ancient Chinese coffee shop called "Starbucks." Sensing trouble unless we bought something, I rushed over to the counter and quickly picked a little sandwich with some roasted veggies between a couple layers of seed-studded croissant triangles. They warmed it up, and moments later I was in heaven again because it was surely the best tasting sandwich I can recall eating in China. Perfect for my tastes. Good friends, good food, a tiny miracle and tender mercy — what was I whining about? Who cares about my little grievances? Oh, right, the Lord cares, and while He does not seem interested in fixing those minor problems, He did kindly reach down today and show me something wonderful: that He is there, that good friends are there, that miracles and blessings abound in spite of problems I can't solve, and that I should rejoice and be cheerful.
I went into that building with closed doors and shut-down restaurants feeling gloomy, depressed, and hungry. In an instant, everything changed, and moments later I left feeling uplifted and satisfied both physically and spiritually. I was content and at peace.
My problems didn't change, but I did. I would not take the confrontational approach I had contemplated. I had fasted the day before and the impression I got was in the scriptures: "If someone asks for your cloak, give them two. If someone smites you, turn the other cheek." I understood that mentally, but it wasn't in my heart. I needed something more to help me change, and that magical moment did it: "Jeff, Jeff!"
Mr. Liu and one of his two friends there would both come to the BYU Management Society event last night. We had 23 people there and it was tremendous. A fabulous lecture from an expert on senior care and lots of networking and more obvious yuanfen magic happening. I left that event truly grateful and joyous.
Monday afternoon, when I met with some significant people, I completely abandoned the tough, aggressive questions I had planned. I brought along a couple of cloaks and gave generously. Turned my cheeks all sorts of directions. I was content, peaceful, a team player, and what might have been rifts became bonding with people I discovered were actually really decent people I liked. Friendships were formed. It was an awesome day, one of my best. Wish I could share some of the exotic details, but I have been deeply blessed. From belligerence to peacefulness, from anger to contentment, from depression to joy, from hunger to marvelous satisfaction, all with one little touch of the Master's hand and a sweet, utterly improbable encounter in a classic China moment.
How I love this land and how I love the blessings of the Gospel in my life.