There's a downside to the gift of tongues, which is often alluded to in describing the ability of many missionaries to pick up a foreign language quickly. In one former missionary's case, that fluency may have led to his abduction and forced residence in North Korea. With your help, we may be able to reveal the truth and, if he is being held there, give him a chance to come home or at least contact his family.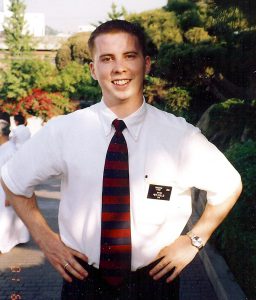 Elder David Sneddon as a Mormon Missionary

at the MTC, before leaving to South Korea.
Twelve years ago, a Brigham Young University student, David Sneddon, was hiking in China's Yunnan Province and simply disappeared. As reported in the Deseret News, a Japanese news source confirms what David's family has long suspected: that David was abducted by North Korean agents, possibly to take advantage of his fluent Korean skills so that he could teach English to important people in North Korea. He is allegedly married now.
David's family has created a website, HelpFindDavid.com, to share what they have learned and to solicit your help.
A CNN report says that if true, this would be "one of the most astonishing stories to ever emerge from North Korea." Unfortunately, CNN seems to be overlooking that there are hundreds of similar reports and some completely verified cases in which abducted citizens were actually released by the North Korean government. Thus, I fail to see why this would be particularly astonishing, but the Western media doesn't do much actual reporting, reading, or anything approaching journalism anymore. Just the evidence of North Korean abduction of Japanese citizens, as detailed on Wikipedia's page, "North Korean abductions of Japanese citizens," should establish an important part of track record for North Korea.
It's an ugly aspect of that regime that, like other human trafficking
crimes around the world, doesn't get nearly enough attention from the
media, which generally is too busy trying to manipulate your vote and drive your consuming behavior rather than digging into the truth. (OK, that's an unfair over-simplification of what the media does. To be fair, I should have mentioned that they do provide a lot of coverage on celebrities and what they wear, or don't wear.)
My hope is that China will intervene and help David's family reach David and allow him to at least visit them again. Perhaps some key players over here will be able to make a difference in this matter. But go to HelpFindDavid.com to learn more about what you can do, wherever you, to help.