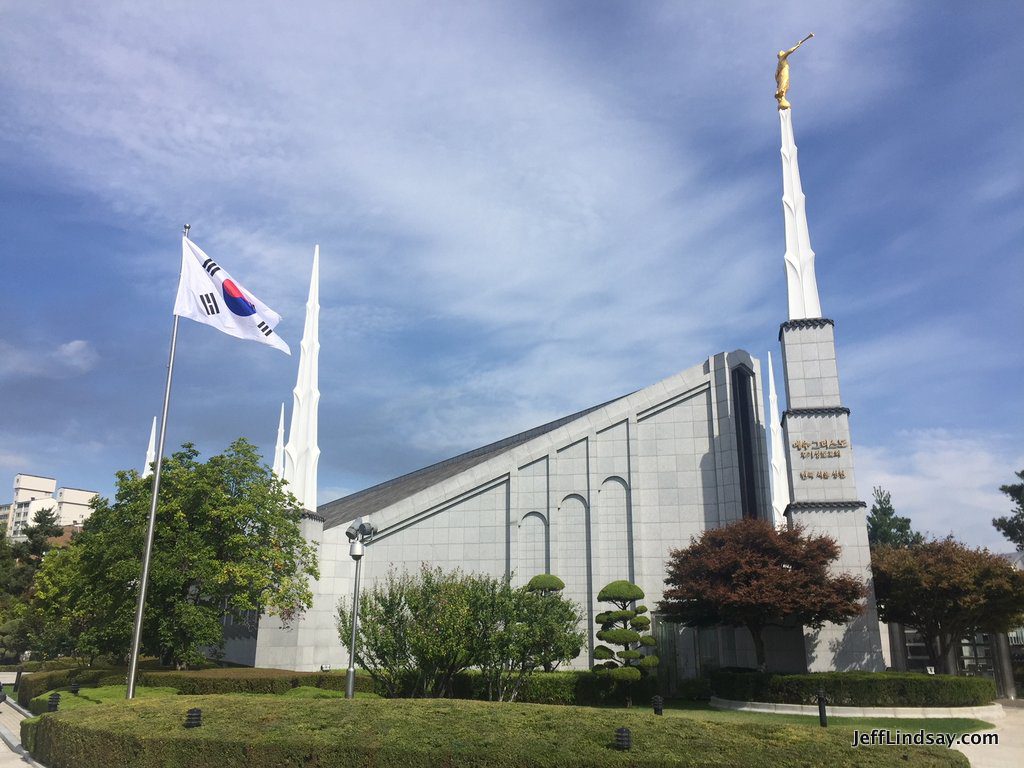 The Seoul, Korea Temple
My wife and I just returned from a marvelous vacation in Seoul, Korea, where we unexpectedly ended up staying in a wonderful part of town within walking distance from the beautiful Seoul, Korea Temple. Being so close allowed us to attend several sessions easily. To our surprise we also learned that Sunday Church services were being held there in a building next to the Temple, so we could attend regular services there, too instead of just watching Conference from our hotel room as we had planned (Korean units will dedicate the following week to Conference). This was during China's "Golden Week," a week-long holiday that we had been looking forward to for a long time.
The strange thing is that Korea was not part of our plans at all. We were going to spend the entire time in Okinawa and on nearby Aka Island, where we planned to meet our favorite diving instructor, Maiko, a woman from Japan, whom we first met in Thailand, formerly an engineer who grew tired of corporate life and is now living her dream as a very competent dive master working all over the world, but with Okinawa as her hase. Our primary goal was to explore the pristine reefs around that island with Maiko's help.
Our plans faced severe headwinds, you could say. It took two typhoons, two Italians, and a strange computer glitch to get us out of paradise in Okinawa and move us close to the Temple in Korea.
As Golden Week neared, we were worried that Typhoon Trami that would hit Okinawa right before we were to fly there (we would fly from Shanghai to Naha, Japan via Seoul, Korea, and our return flight would be on the same out). Fortunately, the typhoon ended the day before our flight, and the resilient people in Naha, Okinawa had things back to normal by the time we arrived. Sturdy buildings, great drainage systems, effective clean-up crews. We were worried that the typhoon would make the water muddy, but decided to go anyway and make the best of our planned trip. With a couple of lucky breaks, things turned out remarkably well.
The first big break for us was meeting two Italians from Shanghai. After we arrived in Naha, we went through a slow taxi line. When we were at the front, I noticed a couple of people at the read of the line who seemed agitated and concerned. Figuring they could speak English, when our taxi pulled up, I called to them and said if they were going near the ferry, they might want to ride with us. They were more than happy to share a taxi and jumped in. This good Italian man and his wife turned multiple potential disasters into blessings for us, and would spend most of the next two days with us.
The first potential disaster was learning that that the Tuesday morning express ferry to Aka Island, where we were supposed to go diving on Tuesday and Wednesday, was sold out. Our dive shop had not told us of the need to book it in advance, just that it was essential to take that ferry in order to team up with them for Tuesday diving. Fortunately, the dive shop suggested that if we went a little early, there might be no-shows making it possible to get a ticket after all. Our Italian friends wanted to go there also, so we planned to meet at the ferry ticket office about 45 minutes early to seek stand-by tickets. Fortunately, our friends showed up over an hour early and were near the front of the line for standby tickets, and obtained two for us as well.
Our Italian friends helped us make the best of the next disaster. When we arrived at Aka Island, excited at the prospect of diving and spending two days at that beautiful spot, we were greeted by our former dive instructor who came onto the ferry and immediately told us to go back because the whole island was closed, our hotel there was cancelled, and there would be no diving due to a new typhoon on its way. What?
Our weather forecasts from US-based services said nothing about a new typhoon, but that didn't change the fact that a serious storm was coming. So we were about to just wave good-bye to our good friend, when our Italian friends pressed for more information and asked if there was someway we could still see the island. It was then about 10:15. Our dive master explained that the last ferry would leave at 2:30 PM, so we could stay until then. But there was no diving and no food. I was thinking, "Why bother? Let's go back to Okinawa and do something." But since our Italian friends wanted to stay, and since there might be a chance to talk a little more with Maiko, we decided to stay also. What a blessing that was!
Maiko was able to drive all four of us to a spot where swimming and snorkeling was allowed, and about the only thing still open on the island was a little shop there that rented snorkeling gear and even had some local food ("taco rice," a specialty like taco toppings on rice derived from the tastes of American soldiers). So we all went snorkeling and while it was not as spectacular as a typical scuba dive, the reefs we saw were beautiful and there were many species of fish there. Delightful.
Maiko met us for lunch and took us to the top of a hill with a beautiful view of the island and the pristine water around it. It was surprisingly clear for having just been hit with a typhoon. We had just enough time for fun snorkeling, a good taco rice lunch, some photos, and some warm good-byes before leaving our sweet dive master to catch the departing ferry. Disaster turned into blessing, thanks to our Italian friends.
Aka Island was so beautiful, in spite of not being able to dive. But perhaps the best part was the reunion with a kind friend, Maiko, though only for a short while.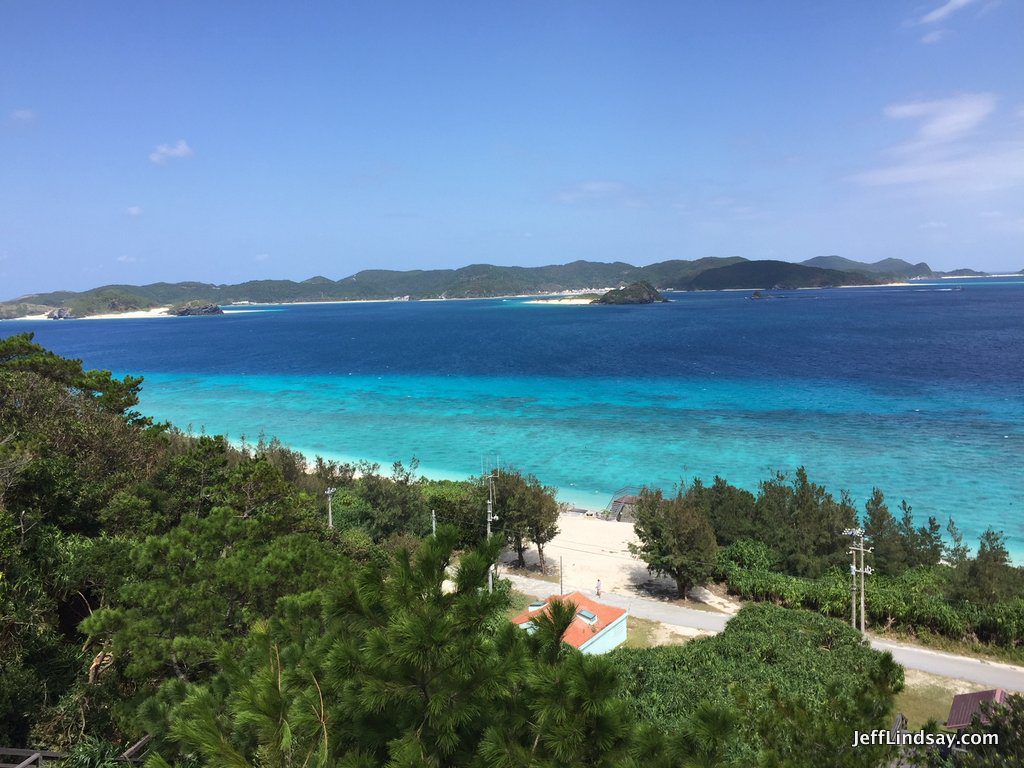 A view of Aka Island from a hill overlooking the beach and snorkeling area.
With our diving cancelled, we figured we would be able to see what we wanted to see on Okinawa faster than expected, so maybe we could take an earlier flight to Seoul and spend some time there. At the last minute in Shanghai I had packed a white shirt in my bag just in case something would give us some time in Seoul, where there is a temple I had not yet seen. Now I was thinking that might come in handy. Checking weather forecasts while on the boat back to Naha, I finally found one that recognized the approach of a typhoon, and based on that, it looked like Friday would be a good day to leave Okinawa. Our friends were also planning something to change their flights to Friday for a return to Shanghai. Great. We would meet again for dinner that night, after I spent a couple of hours on Skype to get our flight to Seoul move up a couple of days to Friday. Yay! We would have a chance to see Seoul and the Temple on Saturday, so we thought.
The Italians helped us avert yet another problem. Minutes after completing all the work it took with Travelocity and Korean Area to change our flight plans to Friday, we rushed out of our hotel and met our friends at a fun local Okinawan place. The first words out of their mouths were a complaint about how they had just changed their travel to Friday, and now they discovered that was the worst possible time. Based on the newest forecast, the typhoon would be intense that day and flights would likely be cancelled. I, too, had made a serious mistake and now faced the risk of being stuck without the original return flight available. Travel in Asia during Gold Week involves huge numbers of Chinese travelers making flights very crowded and expensive, and making changes more difficult. Now we risked missing some work and having to eat up precious vacation days waiting to off Okinawa.
With that early warning of trouble from our friends, I got back on the phone right after dinner and found Korean Airlines to be very helpful. They were able to rebook us again at no extra charge on earlier flights on Wednesday night that would avoid the typhoon. We were so lucky there were any seats at all! Our friends would do the same. In fact, we would meet them again at the airport, unexpectedly, and have yet another meal together before parting. In addition, we would spend Wednesday morning together visiting some significant sites in Okinawa, including Hacksaw Ridge. Such good people. We look forward to ongoing association in Shanghai.
The final surprise that got us closer to the Temple in western Seoul was a strange computer glitch. Finding a hotel in Seoul was difficult since nearly everything was fully booked already. I did find one place (Roi House) not far from the Temple but it looked like a hostel, though they had a room with a private bath that looked possible. But I decided to go with another hotel near the center of Seoul, one that included breakfast and was more of a regular hotel, though maybe not in such a great setting. I first ordered that hotel (Chisun Hotel Seoul Myeongdong) on Ctrip (Trip.com). After one hour, it still said it was awaiting confirmation. I finally called Ctrip and learned that there had been some kind of glitch and they would not be able to even try to confirm it until the next day. I wasn't willing to wait, giving how few rooms there were and the fact that many others might be doing the same thing we were, fleeing typhoons and heading for better weather. So then I went to Hotels.com. I had a page open for the Roi house, but since I didn't want that, I opened a new page for the other hotel, and then clicked on "book now." The order went through right away. Great! That was at midnight. I went to sleep, happy to finally have secured the hotel I wanted.
The next day, on the way to the Naha airport for our flight to Seoul, I was looking up the address of the hotel I had ordered so I could tell a cab driver where to take me. That's when I saw a shocking notice in my confirmation email from Hotels.com: the reservations I had were for Roi House, not the downtown place I wanted. I am sure (really? well, I think so!) that I had clicked on the button to order the downtown hotel, but what was ordered was Roi House. Perhaps it was because the Roi House page was loaded in memory somehow? Must be user error and just lack of attention late at night, but it was really a surprise. No refund possible, so we went with the Roi House — and what a perfect blessing that was. It was comfortable, spacious, and surrounded with pleasant places to walk and some of the best food we've had, including the best gelato we've seen outside of Italy (Gelati Gelati at the mall next to the Hongik University station) and the best Italian restaurant we've experienced outside of Italy (Al Choc), right around the corner from Roi House (best gnocchi ever!) and surprisingly affordable. But most important was the proximity to the Temple, allowing us to go there easily without the stress of long travel or long waits for taxis. Just a pleasant stroll.
This ended up being a beautiful, uplifting, relaxing, and delicious vacation, with new friendships made and an important old friendship renewed. We were booted from paradise in Okinawa, but guided to something even better, featuring a marvelous celestial room in Seoul. (Imagine a clever but mercifully resisted pun here.) We could have gone to the Temple had we stayed at the downtown place, but it would have been harder and probably less frequent. Two typhoons, two Italians, and bizarre computer glitch — that was our pathway to truly rich blessings.
I came away with a real love for Korea and a respect for the many good Saints there who make Korea an even better, happier country and who do so much to make the blessings of the Temple available there. I also realized that active steps to cope with risk and apply mercifully provided information is important for coping with complex situations. We could easily have been stranded in Okinawa, where many services were being shut down for a day or two due to the new storm and where travel was becoming problematic for many.