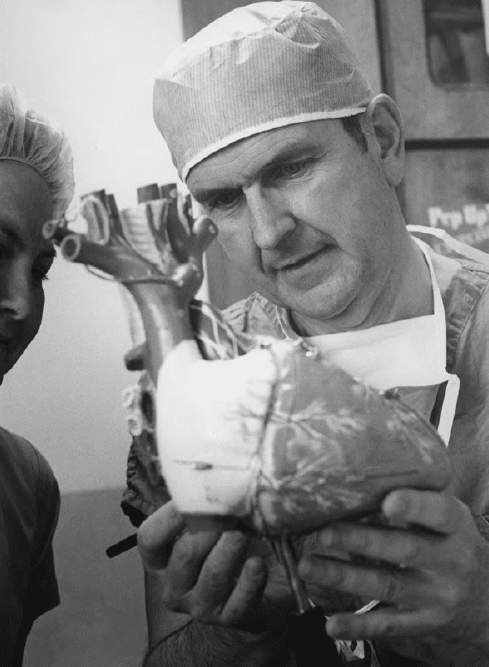 Russell M. Nelson examining a model of the human heart.
Last night I read an entire article from BYU Studies out loud to my wife so we could discuss and contemplate the remarkable content. The article is "Discovering a Surgical First: Russell M. Nelson and Tricuspid Valve Annuloplasty" by Austin A. Robinson and Curtis T. Hunter, BYU Studies, 54:1. A brief overview can be read on the BYU Studies website, and you can download the full PDF for $0.99 (better yet, just go ahead and subscribe to this excellent journal!).
As Austin Robinson mentions in his overview, the details of this remarkable event have not been widely appreciated. Most of what we knew came from Elder Nelson's description of the event in his April 2003 General Conference addresses, where spoke of an incident "during the early pioneering days of surgery of the heart" when a stake patriarch from southern Utah suffered much because of a failing heart.
He pleaded for help, thinking that his condition resulted from a damaged but repairable valve in his heart.

Extensive evaluation revealed that he had two faulty valves. While one could be helped surgically, the other could not. Thus, an operation was not advised. He received this news with deep disappointment.

Subsequent visits ended with the same advice. Finally, in desperation, he spoke to me with considerable emotion: "Dr. Nelson, I have prayed for help and have been directed to you. The Lord will not reveal to me how to repair that second valve, but He can reveal it to you. Your mind is so prepared. If you will operate upon me, the Lord will make it known to you what to do. Please perform the operation that I need, and pray for the help that you need."

His great faith had a profound effect upon me. How could I turn him away again? Following a fervent prayer together, I agreed to try. In preparing for that fateful day, I prayed over and over again, but still did not know what to do for his leaking tricuspid valve. Even as the operation commenced, my assistant asked, "What are you going to do for that?"

I said, "I do not know."

We began the operation. After relieving the obstruction of the first valve, we exposed the second valve. We found it to be intact but so badly dilated that it could no longer function as it should. While examining this valve, a message was distinctly impressed upon my mind: Reduce the circumference of the ring. I announced that message to my assistant. "The valve tissue will be sufficient if we can effectively reduce the ring toward its normal size."

But how? We could not apply a belt as one would use to tighten the waist of oversized trousers. We could not squeeze with a strap as one would cinch a saddle on a horse. Then a picture came vividly to my mind, showing how stitches could be placed—to make a pleat here and a tuck there—to accomplish the desired objective. I still remember that mental image—complete with dotted lines where sutures should be placed. The repair was completed as diagrammed in my mind. We tested the valve and found the leak to be reduced remarkably. My assistant said, "It's a miracle."

I responded, "It's an answer to prayer."
As with many faith-promoting stories, things are often more complicated than they seem. There are many details related to the specific procedure that Elder Nelson invented on the fly, plus details of what was revealed to him, the relationship to other heart procedures that were known, and the technical matters related to the condition he faced. When these are considered, a cool faith promoting story blossoms into an incredible, gritty, granular episode that almost overwhelms me. Please take a look at this account.
Doctor Nelson had been part of the team that developed the first successful heart-lung bypass machine at the University of Minnesota, work that was the basis of his Ph.D. dissertation. After Doctor Nelson came back from further training at Harvard's Mass. General Hospital, he brought the technique to Salt Lake City in 1955, making Utah the third state in the nation with open-heart surgery capabilities. This technique allowed surgeons to see the living heart in action and understand the many mysteries of valve function and other details of the heart, one of the most brilliantly designed organs of the human body. Yes, of course it's designed. Intricately, carefully, brilliantly–it's amazing that it's even possible. Reading the details discussed in this article should further increase your appreciation for the majesty of this vital part of the Lord's Creation.
In spite of the potential offered with new techniques, the tricuspid vale had received very little attention among surgeons by the late 1950s. Most of the problems people had were with the other side of the heart in the mitral valve, where rheumatic fever was a common factor causing valve failure. When Doctor Nelson decided to operate on what medical science then declared was an inoperable condition, he did not have the benefit of the experience of other surgeons in operating on the tricuspid valve.
As he started the surgery on May 24, 1960, he found the mitral valve had the "stenosis" he expected and he was able to treat it with known techniques. Then he turned to the right side of the heart and its tricuspid valve, where he found the kind of inoperable damage he expected to find. He could thrust all five fingers of his right hand through the greatly dilated valve into the right ventricle. As he pondered the severe damage, he had a critical impression: reduce the circumference of the ring. But how? People who had tried constricting ligatures on the mitral or aortic valves had resulted in spectacular failures and death. Purse-string sutures into the external heart tissue would eventually tear through the heart. Belt and strap approaches had also failed. It would be impossible to simple apply mitral valve techniques to this very different system. There was nothing to guide him–except God.
At this point an image was placed in Nelson's mind that gave detailed instructions about how to apply sutures to the flaps of the valve to pull them together and reduce the annulus diameter, restoring valve function. Brilliant.
What most impressed me was how technical the revelation was. As he looked at the second valve, with no idea what he could do, he was given a specific piece of information about the need to reduce the diameter of the annulus. He expressed that goal to his assistants, but neither he nor they knew how to achieve it. And then an image was placed in his mind that showed specific details, even with dotted lines indicating where sutures should go. On the fly, without years of animal testing and analysis, he invented and implemented a surprisingly clever procedure that would provide to be brilliantly correct and successful. It didn't take a series of patient deaths after the animal tests, as in other heart innovations, before it began to work. It was successful on the first try. Truly a miracle.
The article is heavy in technical detail and was a bit overwhelming at times, but well worth the exploration and learning. Enjoy!
This may also be helpful in understanding just what can happen when there is "tight control" in revelation. Certainly shows the extremes that the Lord can achieve in giving revelation. It's not all just warm fuzzies.
Update, Sept. 5, 2015: A helpful commenter observed that Dr. Nelson was recognized as one of the top 20 most innovative surgeons alive today. OK, not sure where that list really came from, but it does remind us that Dr. Nelson has earned a great deal of recognition in his profession.