In New York City this summer, my wife and I were walking through China Town with our two younger boys and marveled at the low prices being offered for expensive brand names. I'd heard about extensive counterfeiting, but was shocked to walk into a shop and see the counterfeiting being done in broad daylight. Yes, I know I'm naive! A woman in the back of the shop had been sewing oval D&G labels (Dolce and Gabbana, a hot Italian brand) onto purses. It was like they felt no need to hide their crime. Somehow, my camera accidentally went off while it was down at my side, capturing this shot.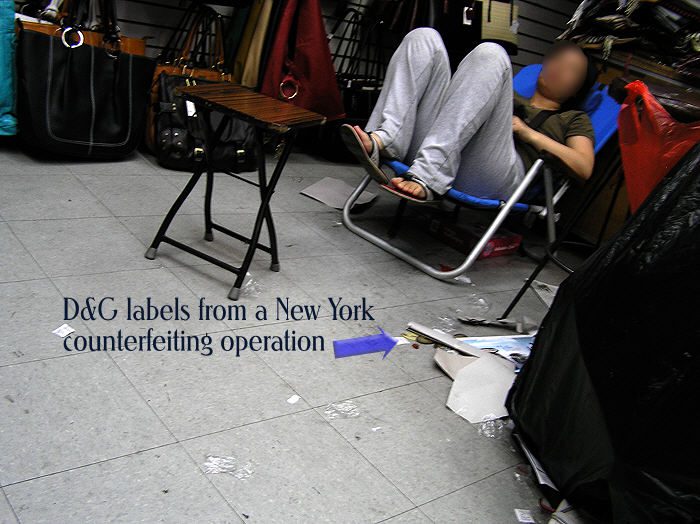 My wife was approached by a woman to see if she'd like to buy one of their purses, with prices around $35 each. My wife said no. "Why not?" Very quietly, trying not to be offensive, my wife simply said, "Well, they're fake." The woman became indignant. In fact, she started yelling at my wife. "Of course they're fake!! You want a real one? You go uptown and pay $300." There was no shame. In fact, there was moral outrage and anger that someone would complain about these products being fakes.
This lack of shame for sin reflects a studied ignorance of right and wrong, coupled with the ubiquitous human sin of pride. Increasingly, we find that sins people should be ashamed of and keep hidden (if they refuse to repent) become "rights" to be trumpeted in public, with angry denunciations of those who question the propriety of the behavior. Those who practice and advocate sin become celebrities and are given platforms to share their message, while those who object are dismissed as intolerant nutcases. It takes more guidance than ever to maintain one's moral bearings in a world where right and wrong are no longer clearly distinct, but blurs on an ever spinning Wheel of Moral Fortune. Designed to look like every option wins, those who play that game will all be bankrupt in the end.
In the warped view of our Shameless Society, wy wife was the sinner for stating the obvious and not choosing to play the game. The following Christmas, of course, was a disappointment: no fake Rolex this year. What, I'm not worth $50?
Bonus photo (click to enlarge):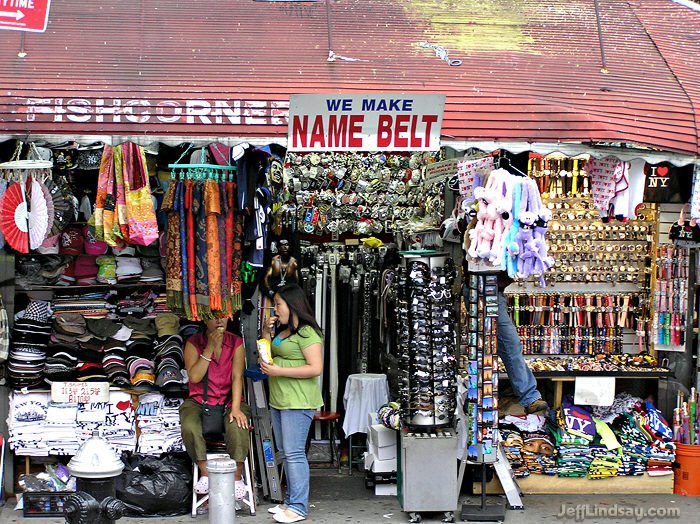 In the same strip of Chinatown shops was another one, shown above, with the sign, "We Make Name Belts." Not "sell," but "make." (Update: I wondered if they were advertising that they could "make" whatever brand name you wanted – but one commenter explained that they might just be advertising the ability to customize a belt buckle with your name.)
Bonus tip:
Speaking of fakes and counterfeits, how about that US dollar, now backed by little more than hope? The increasing pace of inflation, fueled by reckless printing of vast amounts of new money, is making the dollar worth less and less at a sickening pace. So what do you do? First, get your food storage built up. Wheat prices and nearly all staples have increased sharply and will continue to increase in the long term. Prepare for difficult times now and invest in food that will last. Commodities in general have increased by over 20% over the past year. And it's not going to stop.
Second, get a portion of your savings in silver. Call me crazy, but this is actually a gift to you if you act on this advice, slowly and sanely. Silver was around $7 an ounce 30 months ago when I began recommending it to people. Gold was around $450 an ounce, as I recall. Largely thanks to the steady devaluation of our dollar (and other currencies), coupled with a little increased awareness in the investor community, gold has since climbed to $970 an ounce and silver is at $19.80 an ounce. This may seem like such a sharp increase that it's time to sell rather than buy – and it may be that a 10 to 30% correction could occur in the next 6 months. I sure hope so! And if that happens, buy! But don't count on a large correction. For the long term, it's still cheap at current prices. Silver is the better deal, in my opinion, and is actually rarer than gold in terms of available bullion (it gets used up for industrial purposes, whereas the amount of available gold keeps increasing). So my advice to readers – the dedicated ones who have read all the way to the bottom of this post – take advantage of the currently cheap status of silver and make it a part of your portfolio. Get some of your 401k into a precious metals offering such as the SLV exchange-traded fund and get some of the actual metal stored away in a safe place. Don't count on your stocks and bonds to see you through the inflationary future we are facing.