The allegedly Mormon scoundrels at MormonCult.org have taken their "cult-exposing" treachery to a new low, now providing anti-Mormons with carefully crafted tools to "prove" that Mormons aren't Christian. It would be easier to ignore this kind of foolishness if MormonCult.org didn't have Google's #1 spot for searches on "mormon cult" – obviously a popular and heavily-used resource for those looking for dirt on the Church.
But the MormonCult.org folks do have a good point, in all fairness: Most anti-Mormon efforts to "prove" that Mormons aren't Christian rely on distortions of LDS doctrine that quickly backfire on informed people.
There are numerous anti-Mormon brochures and Web pages out there which present tables of differences between Mormonism and Christianity (well, their particular flavor of Christianity). Frequently they are in two columns with something like "Mormon Beliefs" on the left and "Christian Beliefs" on the right. These can look impressive to the newbie, but they tend to have no credibility for readers who are LDS or familiar with actual LDS beliefs. The problem is that the "teachings of Mormonism" column tends to include a lot of questionable material such as sloppy distortions of our beliefs of quotations from unofficial sources. You're just not going to engage Latter-day Saints or LDS investigators by listing a lot of crazy stuff we don't really believe or by twisting our beliefs into offensive caricatures of LDS doctrine. Adam = God? Sorry, we don't believe that. Ron Paul = God? Closer, but still a resounding no.
Consider this hypothetical example: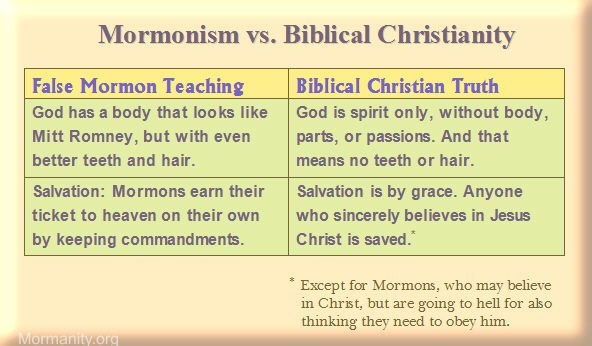 Not too troubling for experienced Mormons, who will immediately recognize that all references to the divine nature of Mitt Romney are NOT part of official LDS doctrine, even if that gets taught occasionally in Gospel Doctrine classes by rogue Republican teachers. And on a more serious note, this stuff about "earning our way to heaven" on our own or not needing the grace of Jesus Christ is ridiculous. It is only through the Atonement of Christ that we have any hope.
Look, I've still got some of the Christmas spirit left, so in the spirit of being open-minded and reaching out to our critics, here's a little gift for anti-Mormons: a tip on improving your tactics. Taking a cue from MormonCult.org, I suggest this: cite OFFICIAL LDS scriptures when you compare Mormon teachings to your brand of Christianity. That way there will be no question about the reliability of the source, and less chance that people will think you're just making stuff up or getting it completely backwards. Use the LDS scriptures – our primary source for official doctrine, the "standard works" that take precedence over any stray statements from Church leaders or others.
In fact, for a real gift, you should know that MormonCult.org provides a devious table on "Mormonism vs. Christianity" that, in spite of its questionable nature, illustrates this technique of citing only official LDS scriptures to make your case. Since the table there is hard to read, unfortunately, I've reproduced it here in a more legible format. It compares some controversial Mormon teachings from the LDS scriptures to some popular flavors of mainstream Christianity, with troubling Mormon doctrines taken straight from the LDS scriptures so our critics can contrast our beliefs with their own to show that we aren't Christian – or at least that we aren't their flavor of Christian. Why would I be so generous with our religious enemies? Hey, we can disagree, but we can still be helpful and generous one with another, right? And open-minded, right? It just seems like the Christian thing to do.
Use this gift in the spirit that is intended and I'm sure you will be able to open some minds and maybe even touch a few hearts.
Mormonism vs. Acceptable Christianity:
1. Mormon Confusion about the Nature of God
Teachings from LDS Scriptures
Mainstream Christian Belief
Like Joseph Smith, witnesses in the Mormon scriptures claim to have seen God and Christ as two separate beings: "But he . . . looked up steadfastly unto heaven, and saw the glory of God, and Jesus standing on the right hand of God." 1
True Christians know that God and Christ are one (John 10:30), namely one spiritual, indivisible Being of one substance without a visible body and certainly without a "right hand." And no man can see God (John 6:46), so the Mormon scripture is clearly false.
In the Mormon scriptures, Jesus says "My Father is greater than I." 2
Christians believe that the Father and the Son are one Being and are absolutely co-equal.
The Jesus of the Mormons scriptures "learned obedience by the things which he suffered; And being made perfect, he became the author of eternal salvation unto all them that obey him." 3
Christians understand that Christ did not need to progress or learn or be made perfect, but was complete and perfect eternally. And true Christians know that salvation, of course, is not a function of obedience!
The glorified Mormon Jesus after ascending to heaven is not spirit, but has flesh and bones. To alleged witnesses in the Mormon scriptures, he said, "Handle me and see, for a spirit hath not flesh and bones, as ye see me have." 4
The Christian God, whether the Father, Son, or Holy Ghost, is spirit, without body, parts, or passions. He does not have flesh and bones!
Spirit children of God?? "We are the offspring of God" 5 and God is "the Father of [our] spirits" 6 and "the Spirit itself beareth witness with our spirit, that we are the children of God." 7
The reality is much more humble for mankind. We are created by God, but he is completely different. We are not "offspring" of God!
Mormonism vs. Acceptable Christianity:
2. Arrogant Aspirations: Becoming Like God?
The Mormon scriptures say God "hath given unto us all things that pertain unto life and godliness, . . . that by these ye might be partakers of the divine nature." 8 Also "now are we the sons of God, and . . . when he shall appear, we shall be like him." 9
Christians are appalled at this blasphemy. God and Christ are infinitely different than us and we cannot become "like them" in the least degree.
Extending the theme of "being like God," Mormon scripture says that God will "change our vile body, that it may be fashioned like unto his glorious body, according to the working whereby he is able to subdue all things unto himself." 10
Please! All true Christians know that God does not have a body. He does not need a body to "subdue all things."
Gods?? "I have said, Ye are gods; and all of you are children of the most High." 11 And this: "Is it not written. . ., I said, Ye are gods? . . .he called them gods, unto whom the word of God came." 12
Christians are appalled at this. Frankly, this is so blasphemous that the author of these passages probably would have been stoned in the old days – and with good reason!
Joint heirs with Christ?? Glorified with him? "We are the children of God. And if children, then heirs; heirs of God, and joint-heirs with Christ; if so be that we suffer with him, that we may be also glorified together." 13
Christ is the Heir of God and is glorified alone. The exaltation of humans is pernicious Mormon doctrine that true Christians must reject.
Mormonism vs. Acceptable Christianity:
3. Confusion over Salvation
Teachings from LDS Scriptures
Mainstream Christian Belief
Mormons believe that we must "work out your own salvation with fear and trembling." 14
Christians have no need to fear, tremble, or to work out their salvation – Christ did it all for us, and gives us assurance now that we are saved.
The Mormon scriptures proclaim this heresy: "By works a man is justified, and not by faith only." 15
Absolute perversion of Christianity! Christians believe that they are saved by faith alone, by faith only, and that our works play no role in our justification through grace.
When asked "What good thing shall I do, that I may have eternal life?," the Jesus of the Mormon scriptures said, "If thou wilt enter into life, keep the commandments." 16

(We're not making this up – that's exactly what the Mormon scriptures say – in several places, actually!)

This departs from the most basic principles of Christianity. One does not have to do anything to be saved, but to believe and have faith in Christ. Christians believe that commandment keeping has nothing to do with salvation, though those whom Christ saves naturally tend to do good. But the answer, "Keep the commandments," is sure evidence that Mormons are not authentic Christians based on our objective understanding of Christian theology and historic tradition.
On judgment: "the Father . . . judgeth according to every man's work" 17 and God "will render to every man according to his deeds: To them who by patient continuance in well doing seek for glory and honour and immortality, [God gives] eternal life." 18 Also consider this blooper: "he that shall endure unto the end, the same shall be saved." 19
Only the wicked are judged by their works. The righteous are saved by grace, not by patient continuance in well doing or enduring to the end. Plus, seeking for "glory and honor" is a sin inspired by Satan, not God!
On works and "overcoming" through obedience: "He that overcometh shall inherit all things." 20
Christians believe that it was Christ who did all the overcoming and that it is Christ who inherits all things from God – not Mormons!
"To him that overcometh will I grant to sit with me in my throne, even as I also overcame, and am set down with my Father in his throne." 21
Aargh! Christians reject this blasphemy and recognize that the throne is for Christ alone.
Mormons believe progression and diligence is needed to make their salvation sure: "giving all diligence, add to your faith virtue; and to virtue knowledge; And to knowledge temperance; and to temperance patience; and to patience godliness; . . .But he that lacketh these things . . . hath forgotten that he was purged from his old sins. Wherefore the rather, brethren, give diligence to make your calling and election sure: for if ye do these things, ye shall never fall." 22
We rely on the diligence of Christ, not our own. Once we accept Christ, our calling and election is sure, and there is no risk of falling from grace.
Perfection: Mormons believe they must strive to be "perfect . . . even as your Father in Heaven is perfect." 23
Only Christ is perfect. Perfections is a futile and non-Christian goal.
Mormonism vs. Acceptable Christianity:
4. The False Mormon Temple
Teachings from LDS Scriptures
Mainstream Christian Belief
Mormons believe the Temple or "Lord's House" is still important, and that even after Christ returns, true believers will "serve him day and night in his temple" 24. They also believe that the Second Coming, the Lord "shall suddenly come to his temple." 25 They also believe "in the last days, that . . . the LORD's house shall be established in the top of the mountains, . . . and all nations shall flow unto it." 26
Christians believe that there was no need for the temple after Christ came. And it certainly won't be needed in the "last days" or after Christ returns.
Mormonism vs. Acceptable Christianity:
5. Scientific Errors in Mormon Beliefs
Teachings from LDS Scriptures
Mainstream Christian Belief
Mormon scriptures teach that the bat, a mammal, is actually a bird: "among the birds . . . not to be eaten: the eagle and the vulture and the buzzard, . . . the ostrich and the owl and the sea gull and the hawk, . . . and the stork, the heron . . . and the bat." 27
A blatant error in Mormonism and their so-called scriptures. The Christian scriptures, on the other hand, are perfect, complete, and inerrant.
List of cited references from the official Mormon scriptures, published by The Church of Jesus Christ of Latter-day Saints, Salt Lake City, Utah, 1979 edition:
1. Acts 7:55-56
2. John 14:28
3. Hebrews 5:8,9
4. Luke 24: 39
5. Acts 17:28-29
6. Hebrews 12:9
7. Romans 8:16 – 17
8. 2 Peter 1:3 – 4
9. 1 John 3:2
10. Philippians 3:21
11. Psalms 82:6
12. John 10:34 – 35
13. Romans 8:17
14. Philippians 2:12
15. James 2:24
16. Matthew 19: 16-17; see also Luke 18:18-22; Luke 10: 25-28; Mark 10: 17-22.
17. 1 Peter 1:17
18. Romans 2:6 – 8
19. Matthew 24:13
20. Revelation 21:7
21. Revelation 3:21
22. 2 Peter 1:5 – 10
23. Matthew 5:48
24. Revelation 7:15
25. Malachi 3:1-2
26. Isaiah 2:2
27. Leviticus 11:19