Some of our critics warn their congregations against reading the Book of Mormon, and with good reason: in spite of being such an obvious and moronic forgery, utterly devoid of value, without a single redeeming virtue, it is a powerful conversion tool that has transformed millions of lives, brought people to Jesus Christ, and helped people find meaning and joy. Can you imagine what might happen if it weren't such obvious trash?? I can understand why other ministers would be concerned about the dangers of exposure to such literature, literature that make make members of their flock drift away. It's actually fairly logical for them to tell their people to not read the Book of Mormon, and especially not to pray about it. There is real danger, from their perspective.
These dangers cut both ways, and this month my family was shaken by the effects of some non-Christian religious materials I had in my home. I didn't think I would be putting my family at risk just by having a couple books on Eastern religions in my basement – famous last words. Tragically, our little granddaughter, who just turned one year old but is extremely precocious, got a hold of the books and studied them. The photos below show what happened the next day at the park. If the winds had been a little stronger, who knows how far she would have drifted. She was about 8 feet above the ground when I snapped these shots, shortly before my tall son was able to catch her. Now her parents keep her strapped down much of the time, especially when driving. It might be years before they dare to leave her completely unattended.
Whatever you do, please don't let your kids meditate over Eastern religious materials – especially the uplifting stuff.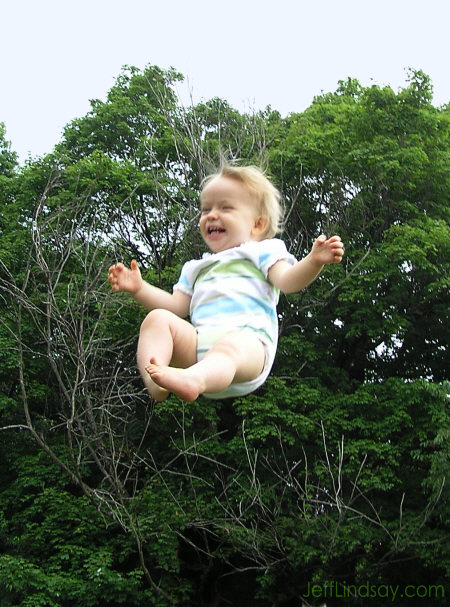 My granddaughter doing Transcendental Meditation in the woods.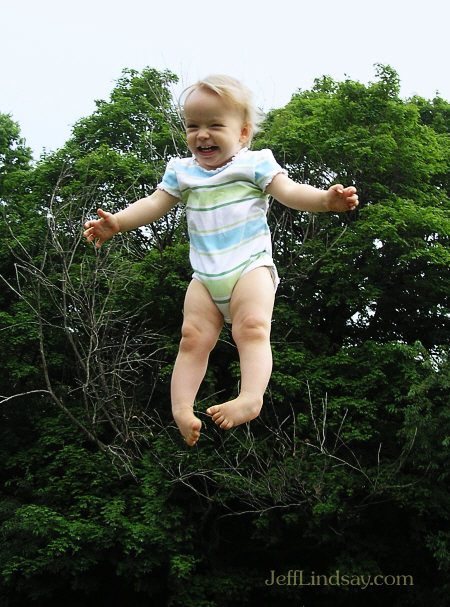 Note: In fairness to my son, I should admit that I edited my son's hands out of the image. She was having fun being tossed, but it wasn't dangerously high.